BLOOD BRICKS - Untold Stories of Modern Slavery and Climate Change from Cambodia
Cambodia is in the midst of a construction boom. The building of high-rise office blocks and housing is pushing the capital city upwards but the country's vertical drive into the skies and status as one of Asia's fastest growing economies hides a darker side to Phnom Penh's ascent.
Building projects demand bricks in large quantities and there is a profitable domestic brick production industry using multigenerational workforces of debt-bonded adults and children to supply them.
Blood bricks traces how urban 'development' is built on unsustainable levels of debt taken on by rural families struggling to farm in one of the most climate vulnerable countries in the world.
In trying to repay loans taken on to cope with the destructive impacts of climate change, rural families are forced to leave their homes to live and work in brick kilns. Kiln owners repay their' debts; in return, the families have to work in the kilns until the loan is repaid, if ever.
The project is part of of a research made in collaboration with The Royal Halloway, University of London and funded by the UK Economic and Social Research Council and Department for International Development (ESRC-DFID) Development Frontiers Research Fund.
NB. All names are pseudonyms to protect participants from identification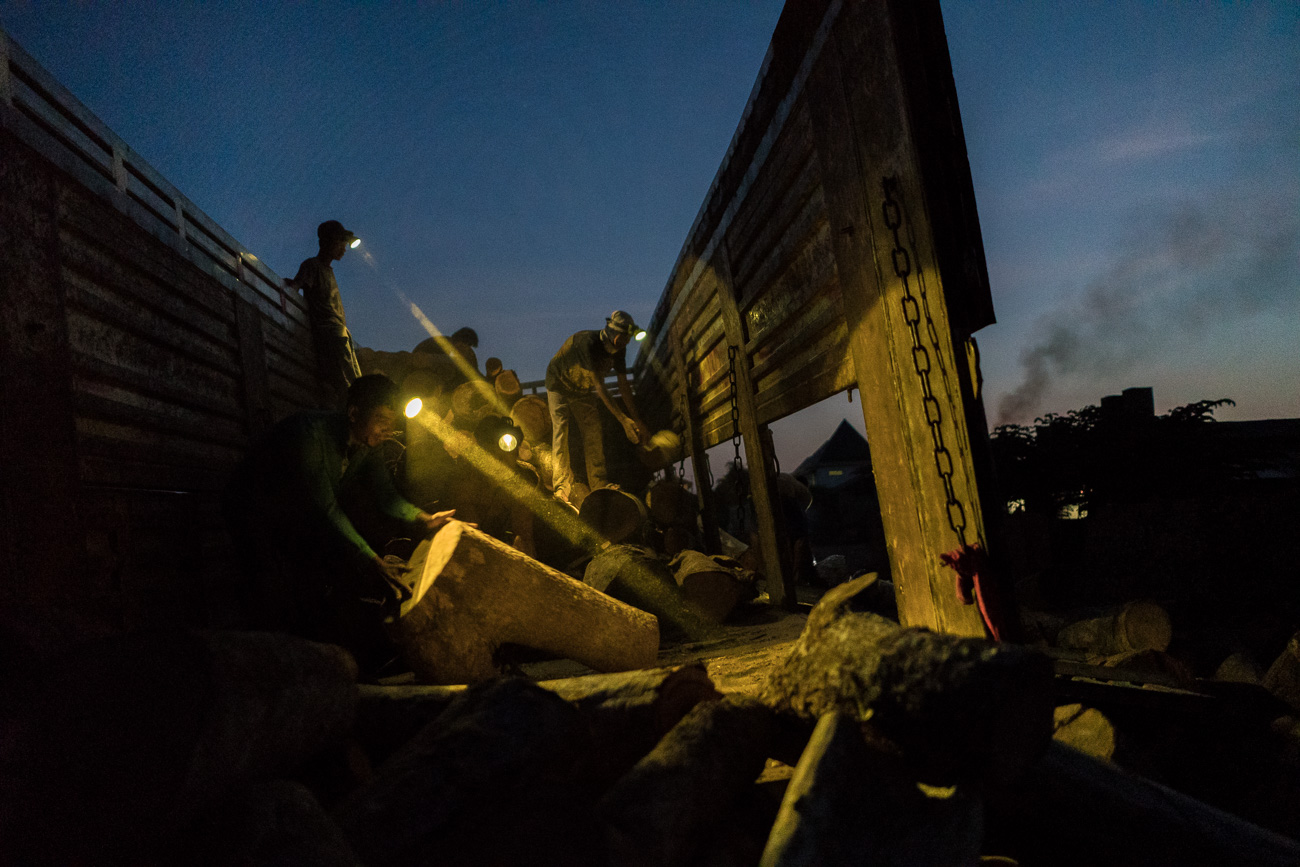 Blood Bricks - Untold Stories of Modern Slavery and Climate Chan
A truck full of wood is unloaded at night in a brick kiln located in the periphery of Phnom Penh. The government has imposed sever restriction on logging due to high levels of deforestation in recent decades. Nonetheless, some kiln owners continue to use logs for fuel in brick kilns, with the unloading of logs taking place at night to avoid detection. © Thomas Cristofoletti / Ruom for Royal Holloway, University of London
Blood Bricks - Untold Stories of Modern Slavery and Climate Chan
Drying bricks are framed by hanging washing, a reminder that the kiln site is a space of work and home for debt-bonded brick workers and their families. © Thomas Cristofoletti / Ruom for Royal Holloway, University of London
Blood Bricks - Untold Stories of Modern Slavery and Climate Chan
Yorm digs out clay from a huge pile of earth in a small brick factory located in the outskirts of Phnom Penh. 4 years ago, his son lost an arm while working in the brick factory. The family had to borrow an additional 1500 USD from the owner (they owned 4000 USD already) to pay for the medical expenses. The kid now lives with an NGO who's providing him with education. © Thomas Cristofoletti / Ruom for Royal Holloway, University of London
Blood Bricks - Untold Stories of Modern Slavery and Climate Chan
Leakena removes bricks that have been fired from inside the kiln, and moves them onto a cart to stack them outside for cooling. Leakena is paid on a piece-rate basis for this work, like all workers on the kiln site, so she is incentivised to work faster. Due to the heat of the kiln after firing, workers like Leakena report issues like migraines, nosebleeds, and more serious conditions. © Thomas Cristofoletti / Ruom for Royal Holloway, University of London
Blood Bricks - Untold Stories of Modern Slavery and Climate Chan
Leap loads garment off-cuts into the brick kiln fire late into the night. Brick firing takes around 10 days, and several workers are forced to labour into the night and on early mornings to complete tasks and collect piece rate wages. Despite this, they are still forced to borrow increased amounts from kiln owners during the rainy season, when work stops due to the risk of damaging bricks, and kiln owners generally prevent workers from leaving the kiln to find other work. © Thomas Cristofoletti / Ruom for Royal Holloway, University of London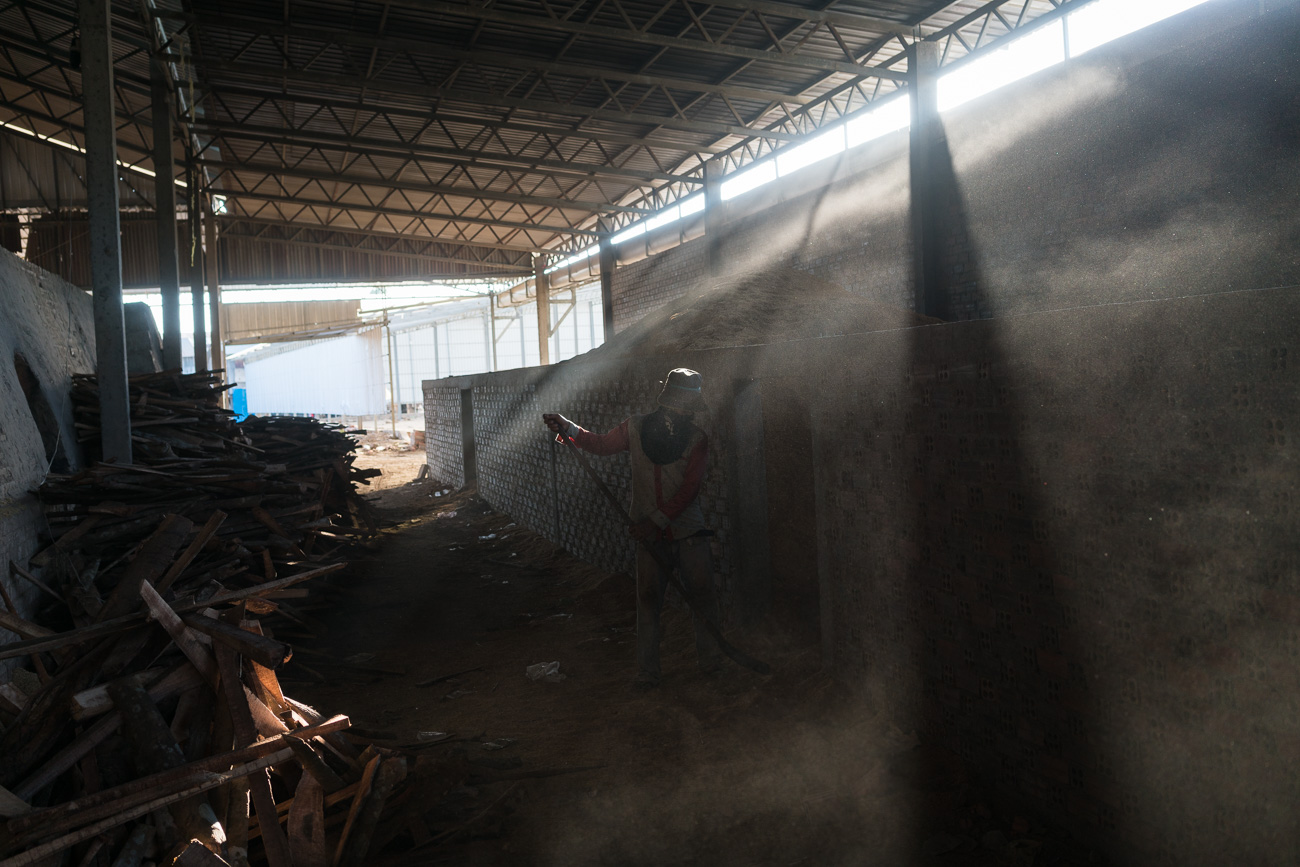 Blood Bricks - Untold Stories of Modern Slavery and Climate Chan
Reaksmey loads rice husks into a basket to fuel the brick kiln. He was working as construction worker and he was earning more money than here, but he had to quit to help his family repaying a 4000 USD debts they own to the factory's owner. © Thomas Cristofoletti / Ruom for Royal Holloway, University of London
Blood Bricks - Untold Stories of Modern Slavery and Climate Chan
Raeksmey cleans one of the brick kiln from the ash produced during the cooking process, a work that normally takes him around 6 days to complete. He works together with his wife and 3 children (all minor) earning around 50 USD. He has been working in the factory since 2015, when the family's debt - around 2000 USD - was bought by the owner. © Thomas Cristofoletti / Ruom for Royal Holloway, University of London
Blood Bricks - Untold Stories of Modern Slavery and Climate Chan
Sochea (5) has a sleep after lunch in the family's house located inside a brick factory in the outskirts of Phnom Penh. Her family, originally from Kampong Cham, has a debt of 800 USD when her brother had an accident and, unable to repay for the expenses, they were forced to sell their house and moved to work into a brick factory. © Thomas Cristofoletti / Ruom for Royal Holloway, University of London
Blood Bricks - Untold Stories of Modern Slavery and Climate Chan
A man throws his fishing net in a pond in front of a group of houses used by the workers of a brick factory. Many factory owners provides basic house accommodation for the workers who live there with their families, but often the few dollars they earn per day are not enough to sustain themselves and many have to go out fishing after work. © Thomas Cristofoletti / Ruom for Royal Holloway, University of London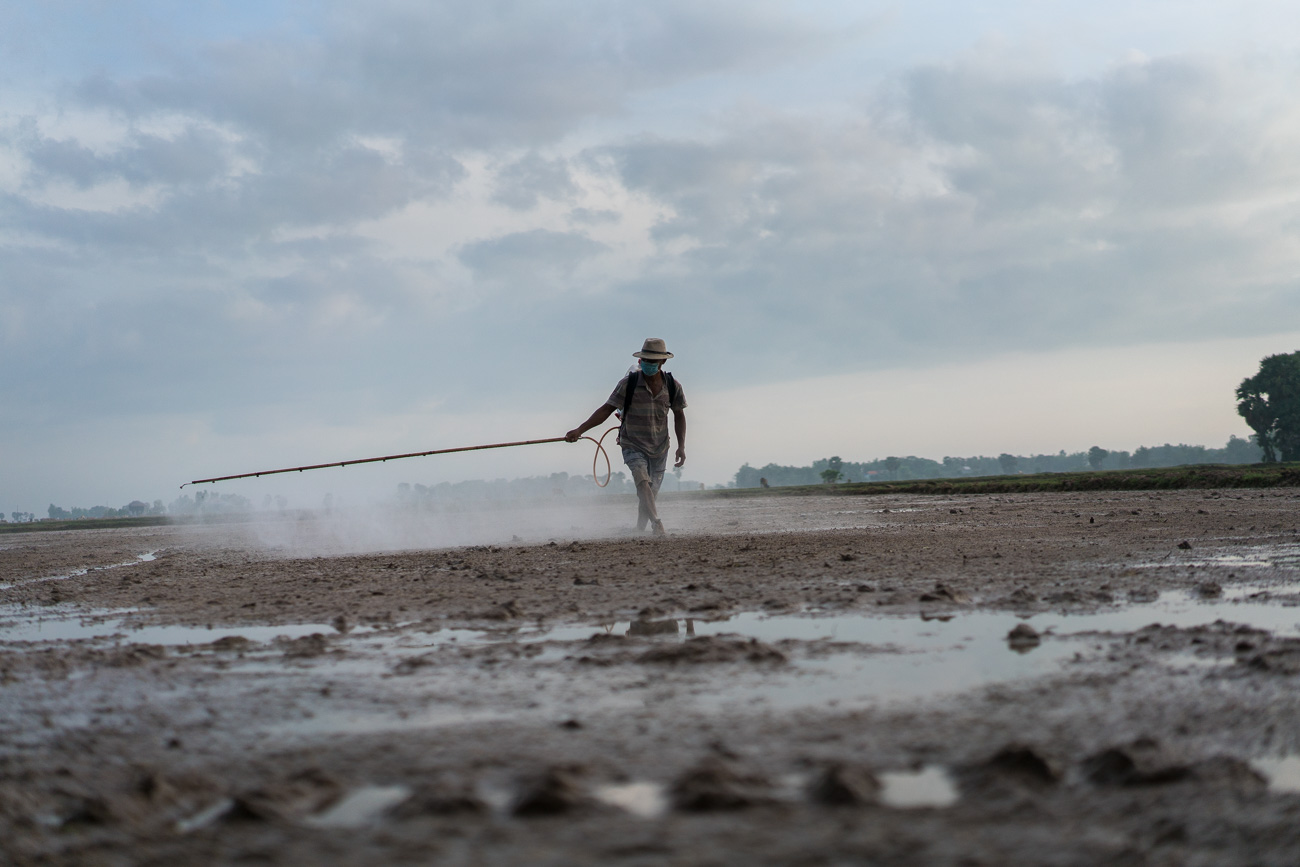 Blood Bricks - Untold Stories of Modern Slavery and Climate Chan
Veasna, a smallholder farmer in a village with high migration to brick kilns, sprays pesticide over his field. Many smallholder farmers report an increase in pests due to increasingly erratic rains. Over the past two decades, the cost of chemical inputs like pesticide has risen, and the government continues to provide scant support to farmers. © Thomas Cristofoletti / Ruom for Royal Holloway, University of London
Blood Bricks - Untold Stories of Modern Slavery and Climate Chan
Munny provides medical and spiritual services to residents of this brick sending village. This type of traditional medicine is particularly popular with brick workers and sending village families who in many cases cannot afford to access formal medical services. © Thomas Cristofoletti / Ruom for Royal Holloway, University of London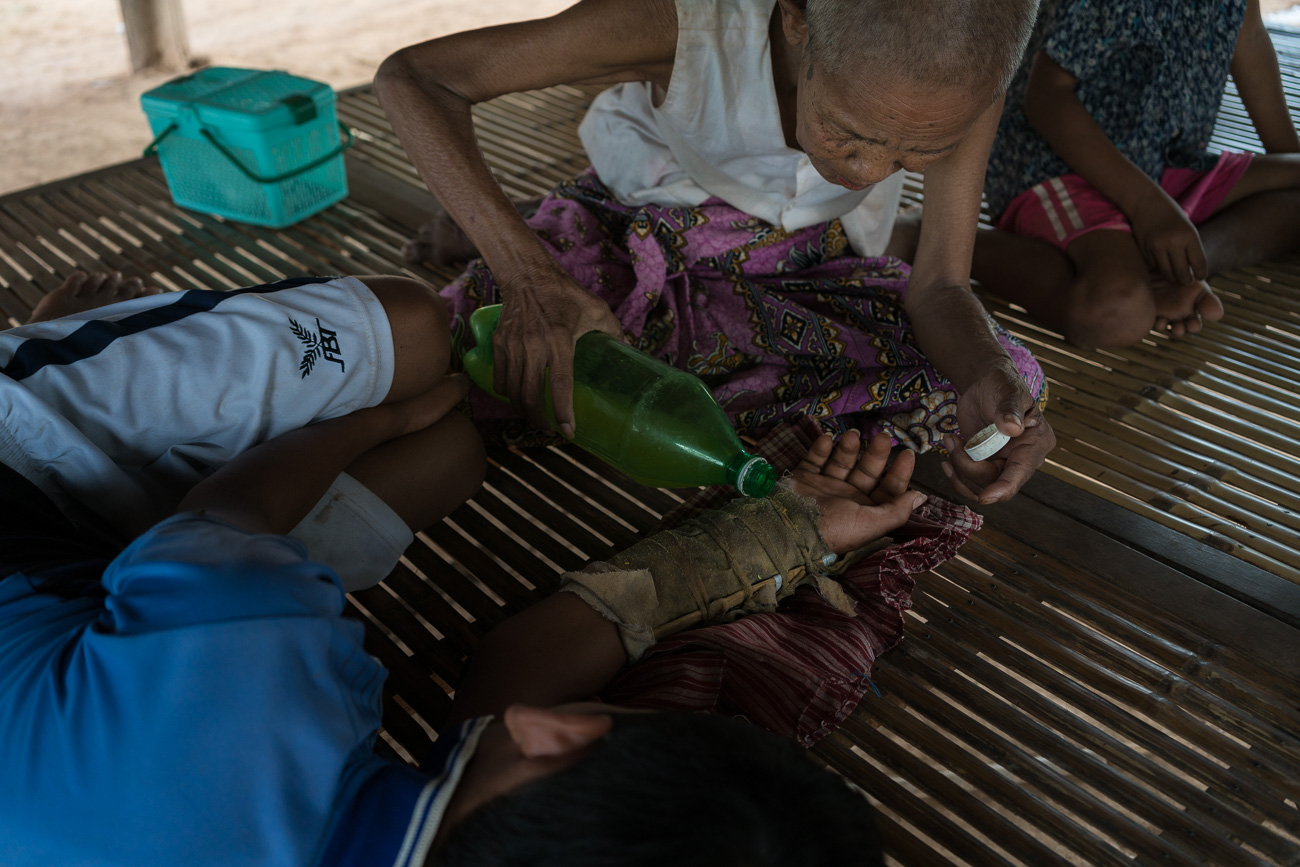 Blood Bricks - Untold Stories of Modern Slavery and Climate Chan
Treating a broken arm, Tevy, a 73-year old woman, applies a mixture of rice wine and wild roots to her grandson's broken arm in order to help reduce the swelling. A few days earlier he fell from a tree whilst collecting tamarind. Our research in sender villages found that many families are only one illness away from having to follow departed neighbours who have entered brick work due to unsustainable debt. © Thomas Cristofoletti / Ruom for Royal Holloway, University of London
Blood Bricks - Untold Stories of Modern Slavery and Climate Chan
Sopheap disassembles copper wires from an old interrupter. A few years ago one of her son asked a loan of 1 million Riel (around 260 USD) while he was working in a brick factory and then run away. Sopheap was asked to repay her son's debt. She worked for some time in the same factory and now she's earning money selling scrap metals. © Thomas Cristofoletti / Ruom for Royal Holloway, University of London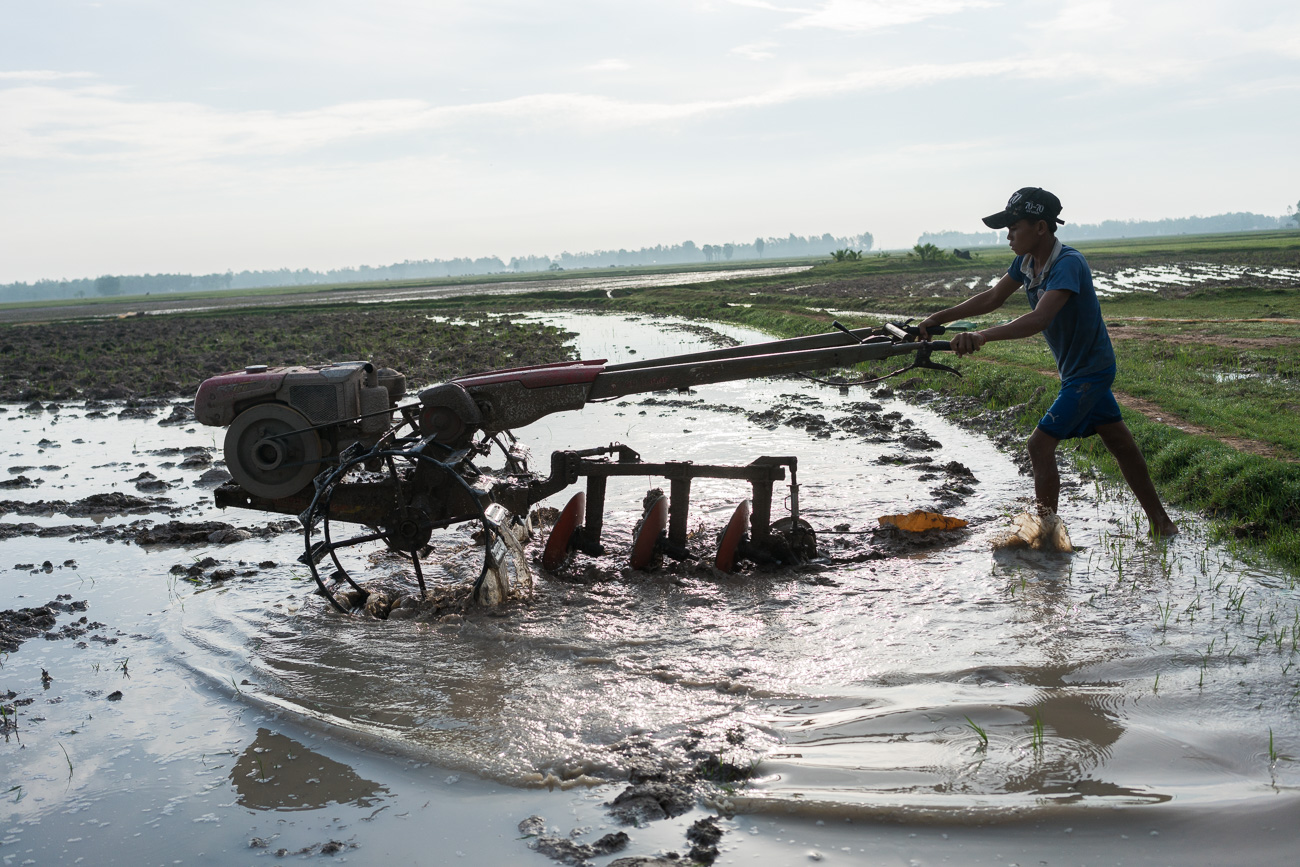 Blood Bricks - Untold Stories of Modern Slavery and Climate Chan
Darany, a smallholder farmer in a village with high migration to brick kilns, ploughs a rice field. Most smallholder farmers continue to cultivate rice as their mainstay, both for subsistence and for commercial purposes. The research finds that the combination of poor state support for agriculture and the impacts of climate change render this a precarious form of farming. © Thomas Cristofoletti / Ruom for Royal Holloway, University of London
Blood Bricks - Untold Stories of Modern Slavery and Climate Chan
Nakry stacks fired bricks outside the kiln to dry. Once dried, bricks are sold to construction sites across Phnom Penh and elsewhere. Dried bricks are transported to trucks by kiln workers, ready for transport to construction projects. This transportation work is also paid piece rate. © Thomas Cristofoletti / Ruom for Royal Holloway, University of London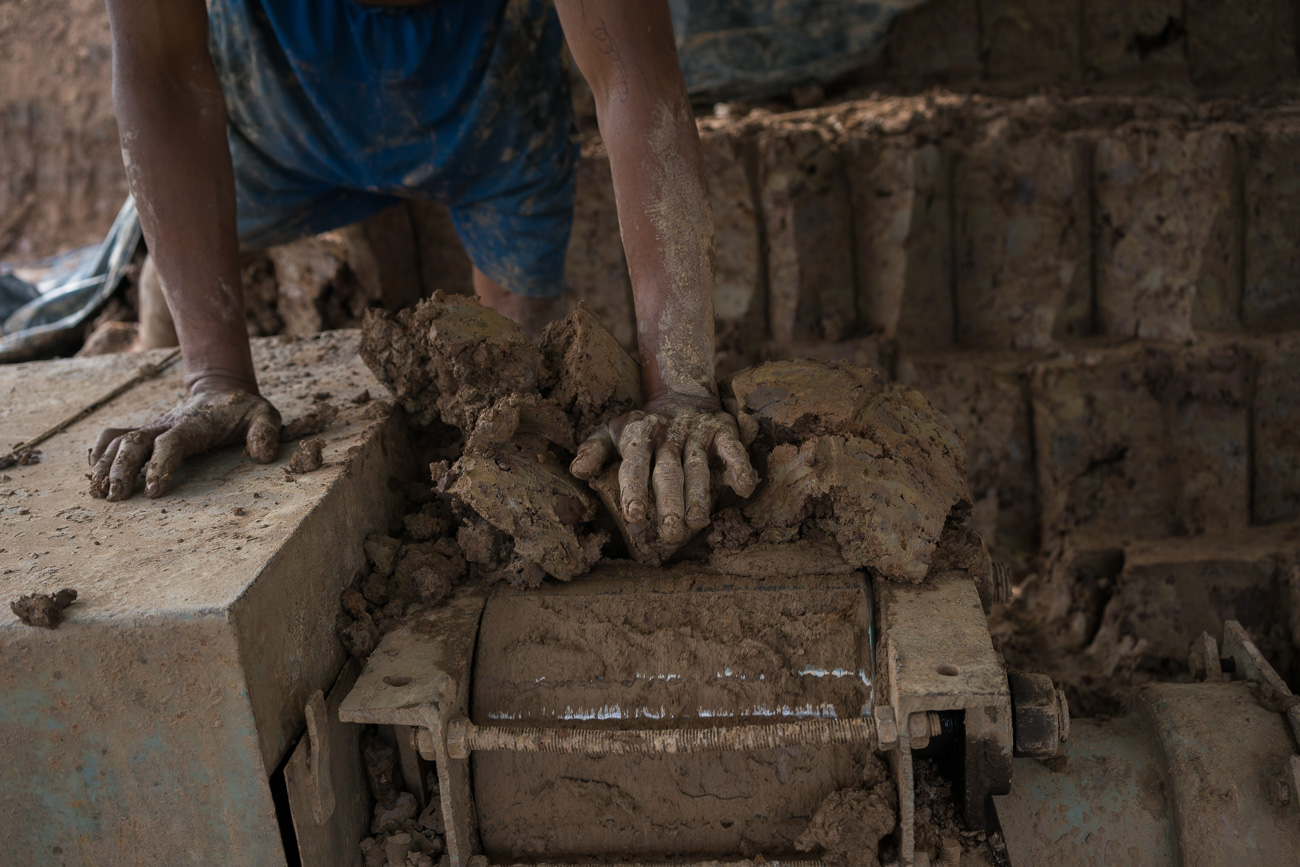 Blood Bricks - Untold Stories of Modern Slavery and Climate Chan
Boran feeds clay into a brick-moulding machine. Machines like this present a serious danger of limb loss, but workers have little choice but to use them. Boran's family are debt-bonded, they owe £2,000 to the kiln owner, far more than a brick-working family could ever earn in a year. © Thomas Cristofoletti / Ruom for Royal Holloway, University of London
Blood Bricks - Untold Stories of Modern Slavery and Climate Chan
Sothea pulls a cart with recently made bricks inside a factory in the outskirts of Phnom Penh. A few years ago her brother suddenly died of exhaustion at the age of 40. This kind of sudden exhaustion – leading in some cases to death – is referred to as "Kjal Goh" and it is relatively common amongst brick workers. Also one of her son, P. (12) was paralysed and left unable to walk after being pushed from a pile of bricks by other children at the kiln. © Thomas Cristofoletti / Ruom for Royal Holloway, University of London
Blood Bricks - Untold Stories of Modern Slavery and Climate Chan
Aerial view of a group of brick factories in the outskirts of the Cambodian capital Phnom Penh. Most of the surrounding fields, once owned by local villagers, have now been sold to the owners of the factories and used to dig clay to produce bricks. © Thomas Cristofoletti / Ruom for Royal Holloway, University of London
Blood Bricks - Untold Stories of Modern Slavery and Climate Chan
Sann stands among labels from garment off-cuts that are used to fire the brick kiln. The research identified well-known British and global fashion brands whose off-cuts are used in these brick kilns. © Thomas Cristofoletti / Ruom for Royal Holloway, University of London
Blood Bricks - Untold Stories of Modern Slavery and Climate Chan
Piseth loads a brick kiln with a bag full of garment off-cuts. These off-cuts are purchased by kiln owners as they are transported from Phnom Penh's garment factories to the dump located on the outskirts of the city. Piseth came to work on the brick kilns after previous generations of his family did the same. © Thomas Cristofoletti / Ruom for Royal Holloway, University of London
Blood Bricks - Untold Stories of Modern Slavery and Climate Chan
A man pushes a cart full of bricks that have been fired inside the kiln of a factory located in the outskirts of the Cambodian capital Phnom Penh. Workers are paid on a piece-rate basis for this work, so they are incentivised to work faster. Due to the heat of the kiln after firing, workers report issues like migraines, nosebleeds, and more serious conditions.© Thomas Cristofoletti / Ruom for Royal Holloway, University of London
Blood Bricks - Untold Stories of Modern Slavery and Climate Chan
A worker transporting logs surveys a kiln site at night using the light of his head lamp. Despite restrictions, some kilns continue to use logs as fuel, though due to a crackdown on logging by the government in recent years, logs are delivered to kilns at night to avoid scrutiny. © Thomas Cristofoletti / Ruom for Royal Holloway, University of London
Blood Bricks - Untold Stories of Modern Slavery and Climate Chan
Srei-Mom, a 10-year old girl, helps her parents by carrying fired bricks out of the kiln. As well as helping their parents, children that grow up on the kilns can also end up taking on their parents' debt when they reach adulthood. In this way, debt bondage on the kilns becomes intergenerational. © Thomas Cristofoletti / Ruom for Royal Holloway, University of London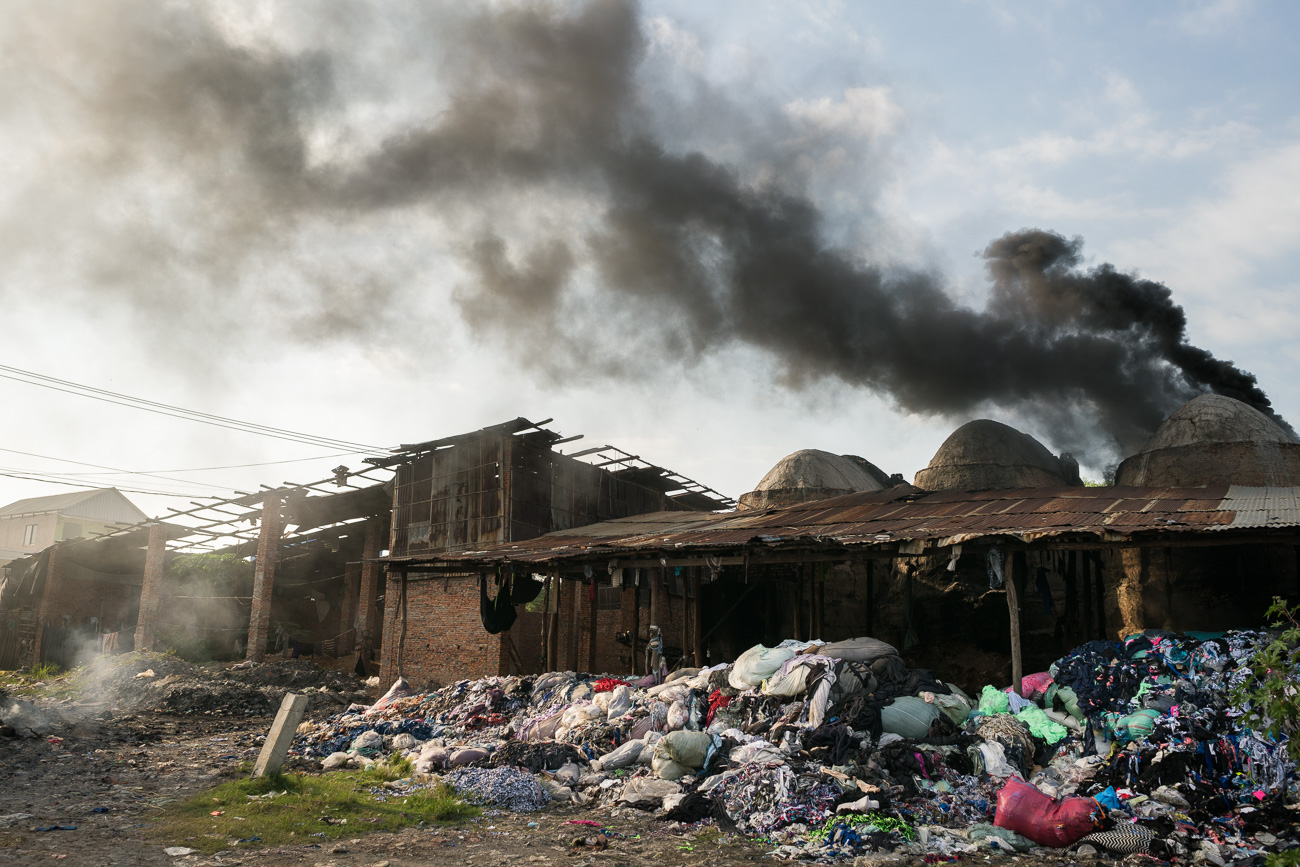 Blood Bricks - Untold Stories of Modern Slavery and Climate Chan
A burning brick kiln stands surrounded by heaps of garment off-cuts, waiting to go into the kiln fire. Garment off-cuts are found to be from major global brands, and are used because they offer a cheap and readily available source of fuel for brick kilns, therefore lowering costs for kiln owners. © Thomas Cristofoletti / Ruom for Royal Holloway, University of London
Blood Bricks - Untold Stories of Modern Slavery and Climate Chan
Piseth (54) works at one of the machine to mold bricks together with his wife Chenda (45), son Kosal (14) and daughter Phalla (15). The family has a 2500 USD debt with the owner of the factory after they sold their rice field. The family is payed around 200.000 riel (50 USD) to produce 20.000 bricks, a work that takes them around a week to complete. They also need to take care of the gasoline to run the machine, spending an additional 4 USD per week. © Thomas Cristofoletti / Ruom for Royal Holloway, University of London
Blood Bricks - Untold Stories of Modern Slavery and Climate Chan
Children of kiln workers play together on site. Children of kiln workers play together on site. Some children work in kilns after school (if they attend) or at the weekends to help their parents pay off debts faster. © Thomas Cristofoletti / Ruom for Royal Holloway, University of London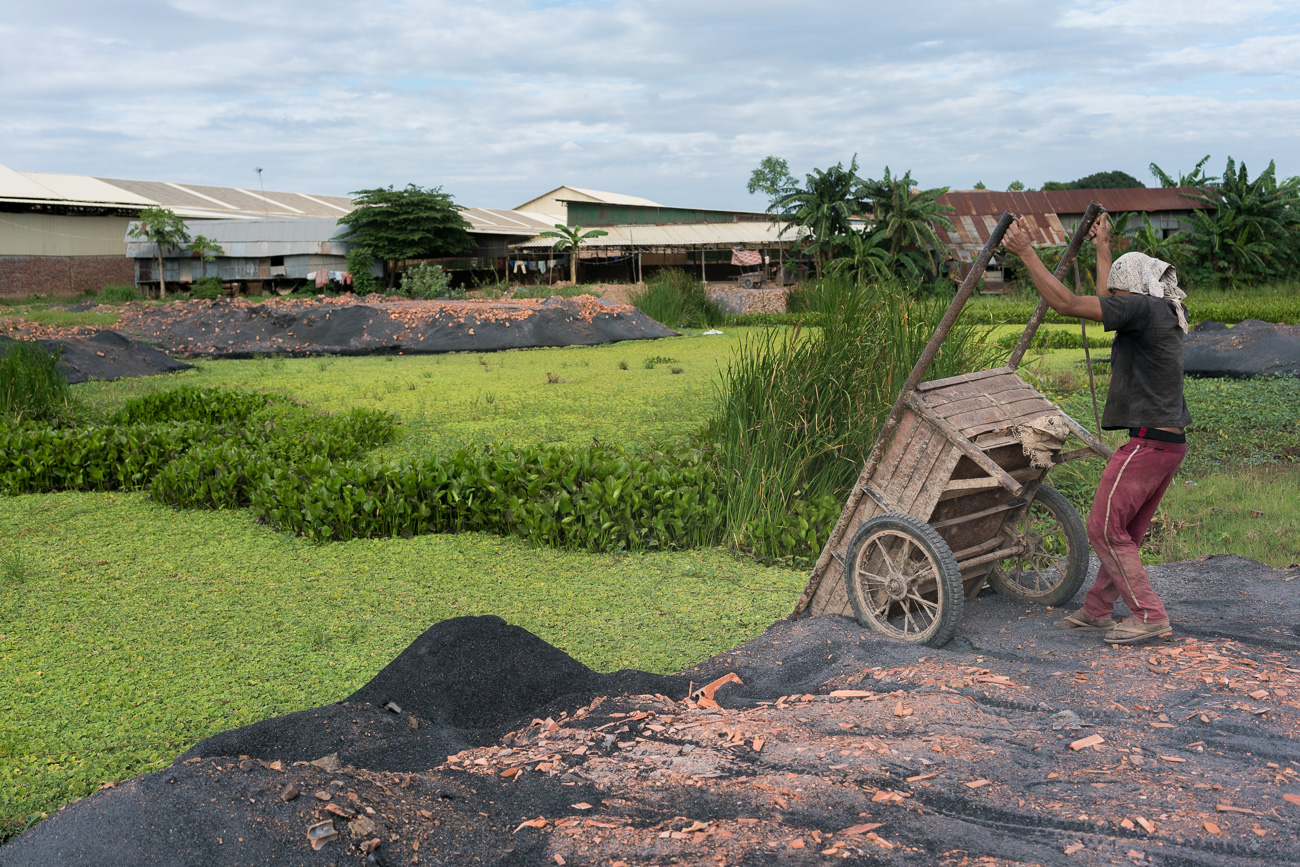 Blood Bricks - Untold Stories of Modern Slavery and Climate Chan
Kosal empties ash from the kiln into a nearby pond. © Thomas Cristofoletti / Ruom for Royal Holloway, University of London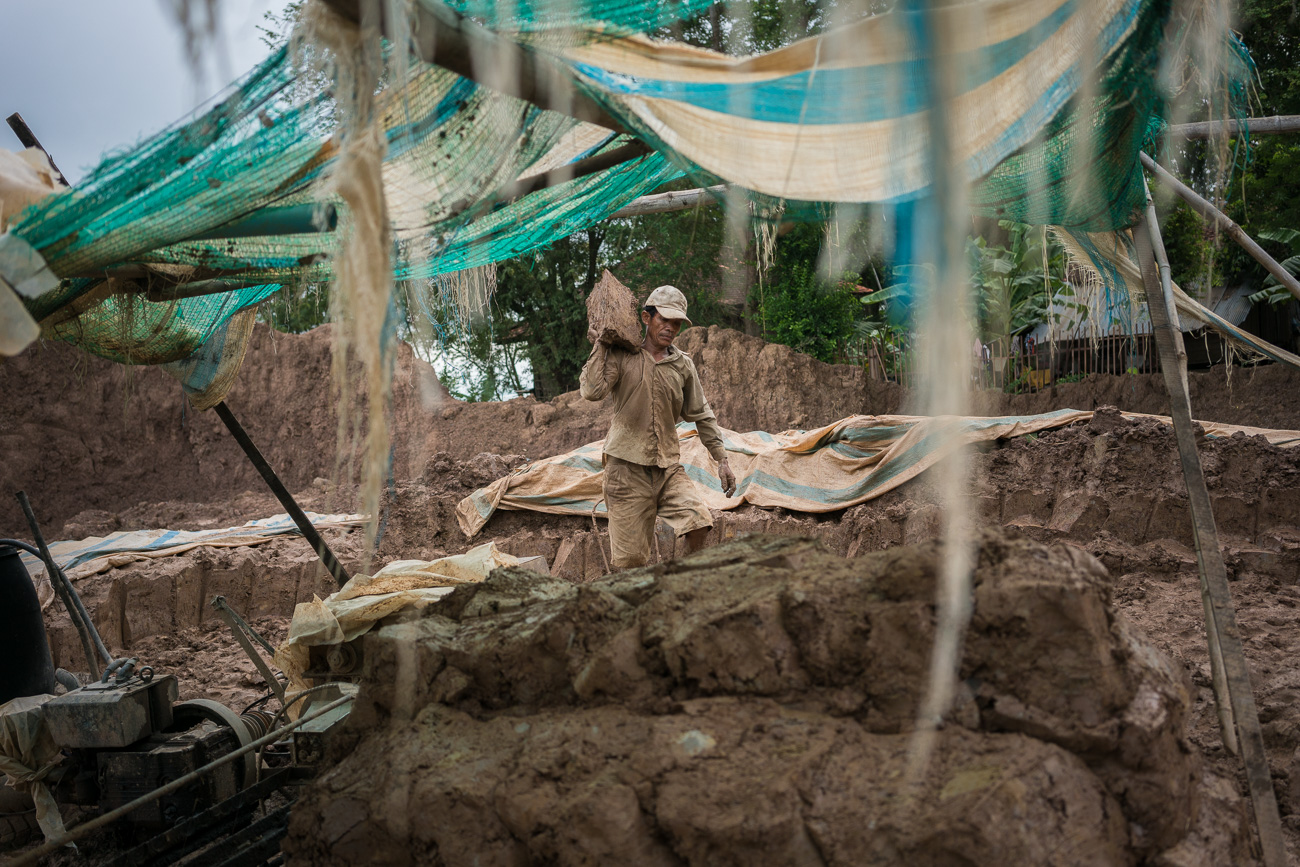 Blood Bricks - Untold Stories of Modern Slavery and Climate Chan
Phala, a debt-bonded brick worker, excavates clay. He normally works together with his wife and their children trying to repay a US$1,000 debt. © Thomas Cristofoletti / Ruom for Royal Holloway, University of London
Blood Bricks - Untold Stories of Modern Slavery and Climate Chan
Chariya loads fired bricks on a cart to be transported out of the kiln. Her 10-year old daughter also helps the family, children that grow up on the kilns can also end up taking on their parents' debt when they reach adulthood. In this way, debt bondage on the kilns becomes intergenerational. © Thomas Cristofoletti / Ruom for Royal Holloway, University of London
Blood Bricks - Untold Stories of Modern Slavery and Climate Chan
January 05, 2018 - Phnom Penh (Cambodia). Workers at the construction site of the Parisian-style "Élysée" development project currently on Koh Pich (Diamond Island). The island is home to Phnom Penh's most expensive and ostentatious building projects© Thomas Cristofoletti / Ruom
Blood Bricks - Untold Stories of Modern Slavery and Climate Chan
September 08, 2017 - Phnom Penh (Cambodia). View of the temporary shacks used by workers employed in the construction of the $150 million commercial and residential project "The Élysée" on Koh Pich island. © Thomas Cristofoletti / Ruom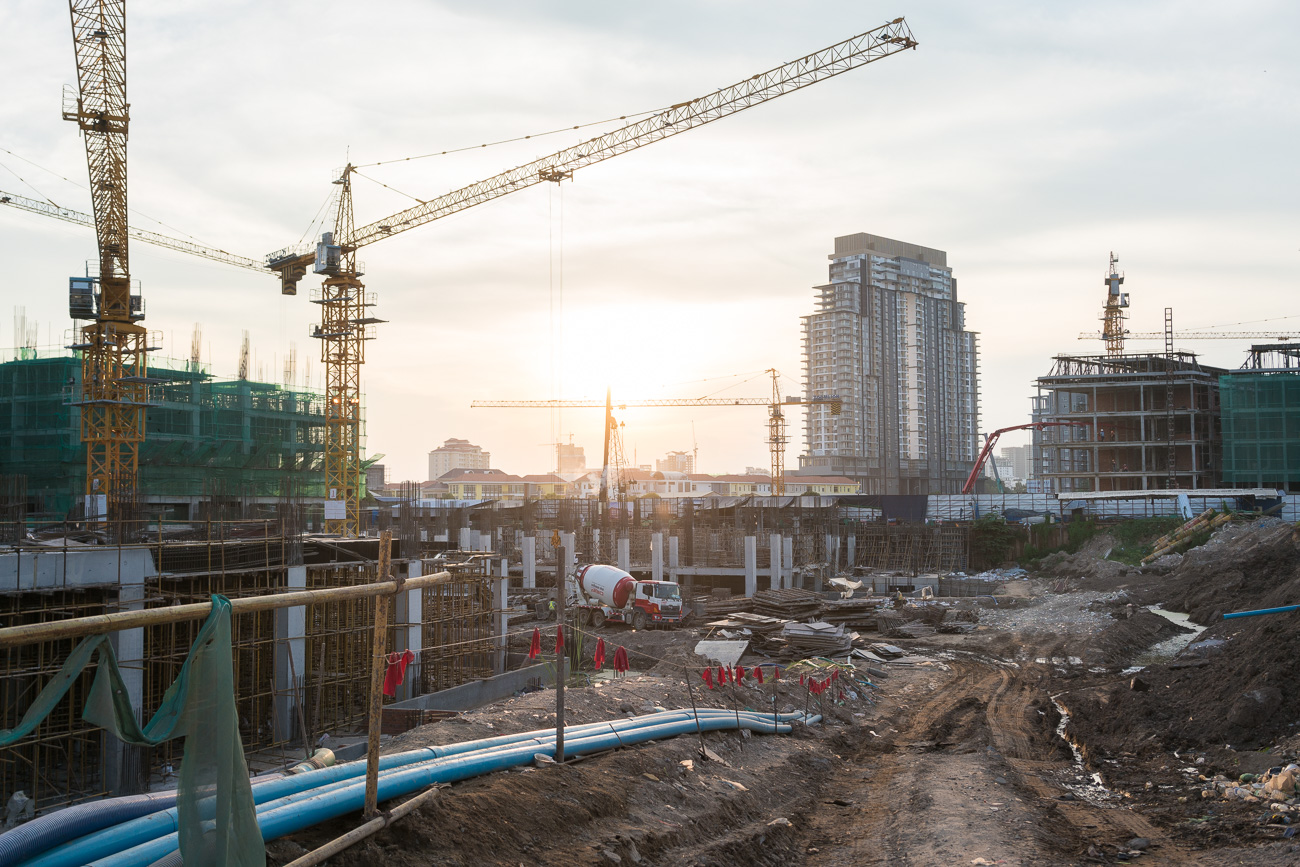 Blood Bricks - Untold Stories of Modern Slavery and Climate Chan
September 08, 2017 - Phnom Penh (Cambodia). View of the construction site of the $150 million commercial and residential project "The Élysée" on Koh Pich island. © Thomas Cristofoletti / Ruom
Blood Bricks - Untold Stories of Modern Slavery and Climate Chan
December 28, 2017 - Phnom Penh (Cambodia). A replica Arc de Triomphe is built at The Elysee development using blood bricks, located on Phnom Penh's 'Diamond Island' (Koh Pich). The island is home to Phnom Penh's most expensive and ostentatious building projects. © Thomas Cristofoletti / Ruom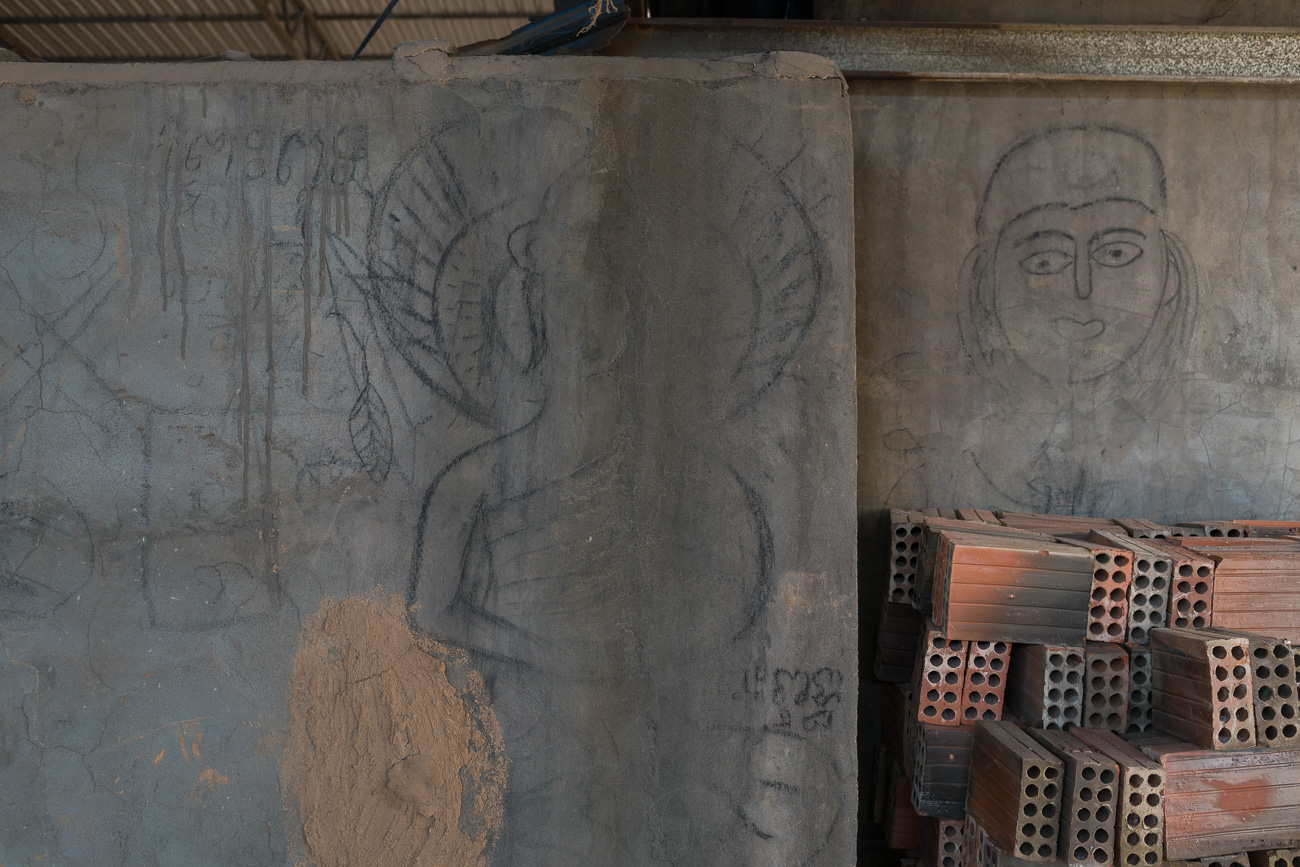 Blood Bricks - Untold Stories of Modern Slavery and Climate Chan
An image of Buddha drawn on the walls of the kiln. Many brick workers are deeply religious and make sense of their current hardships through promise of a better life. Brick kiln owners encourage workers to pursue a "good character" as diligent workers and the subsequent merit it brings. In some cases this moral commitment is one of the key factors preventing workers from simply fleeing the kiln and abandoning their debts. © Thomas Cristofoletti / Ruom for Royal Holloway, University of London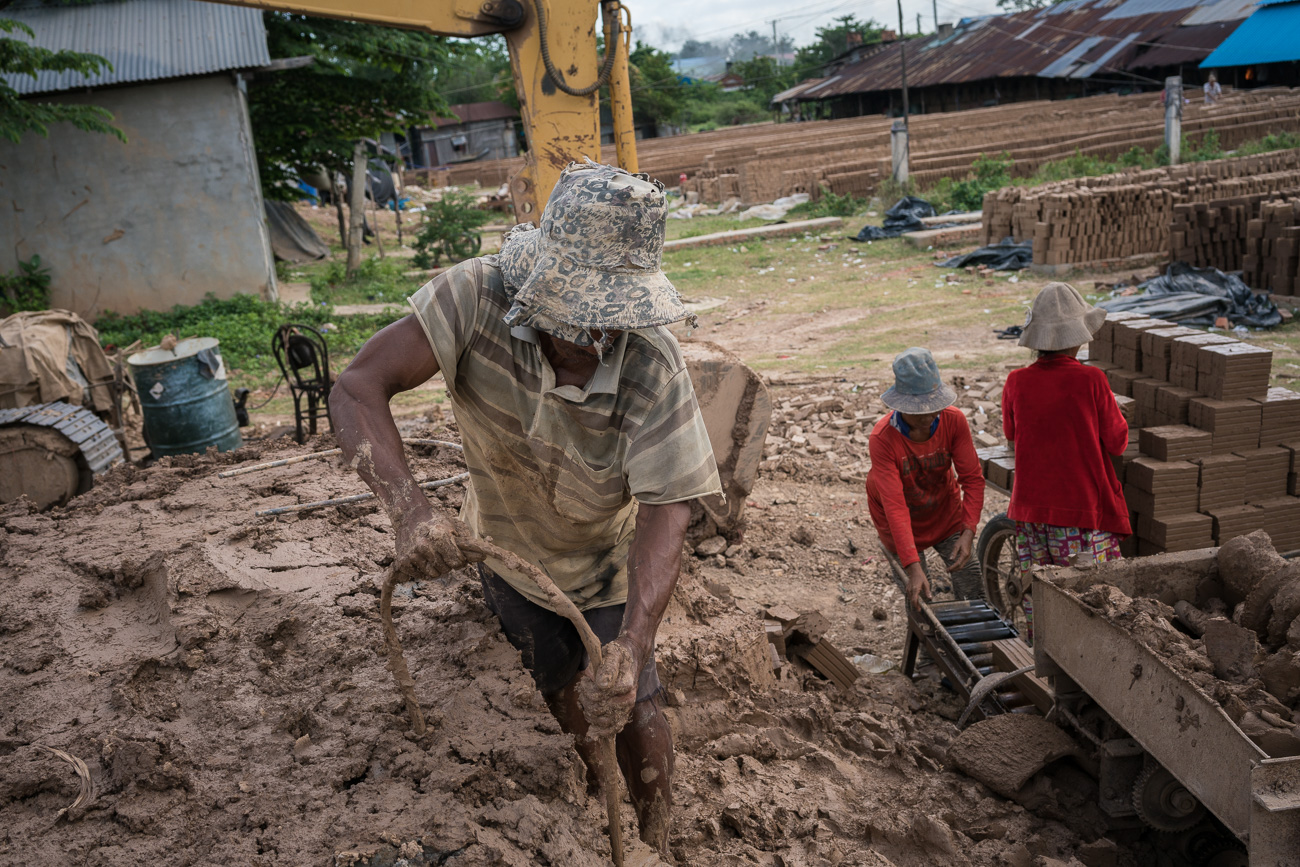 Blood Bricks - Untold Stories of Modern Slavery and Climate Chan
Meng(45) cuts pieces of clay to make bricks together with his wife Sophea and his sister. They have been working in the factory for over 20 years and they own the owner around 1000USD. © Thomas Cristofoletti / Ruom for Royal Holloway, University of London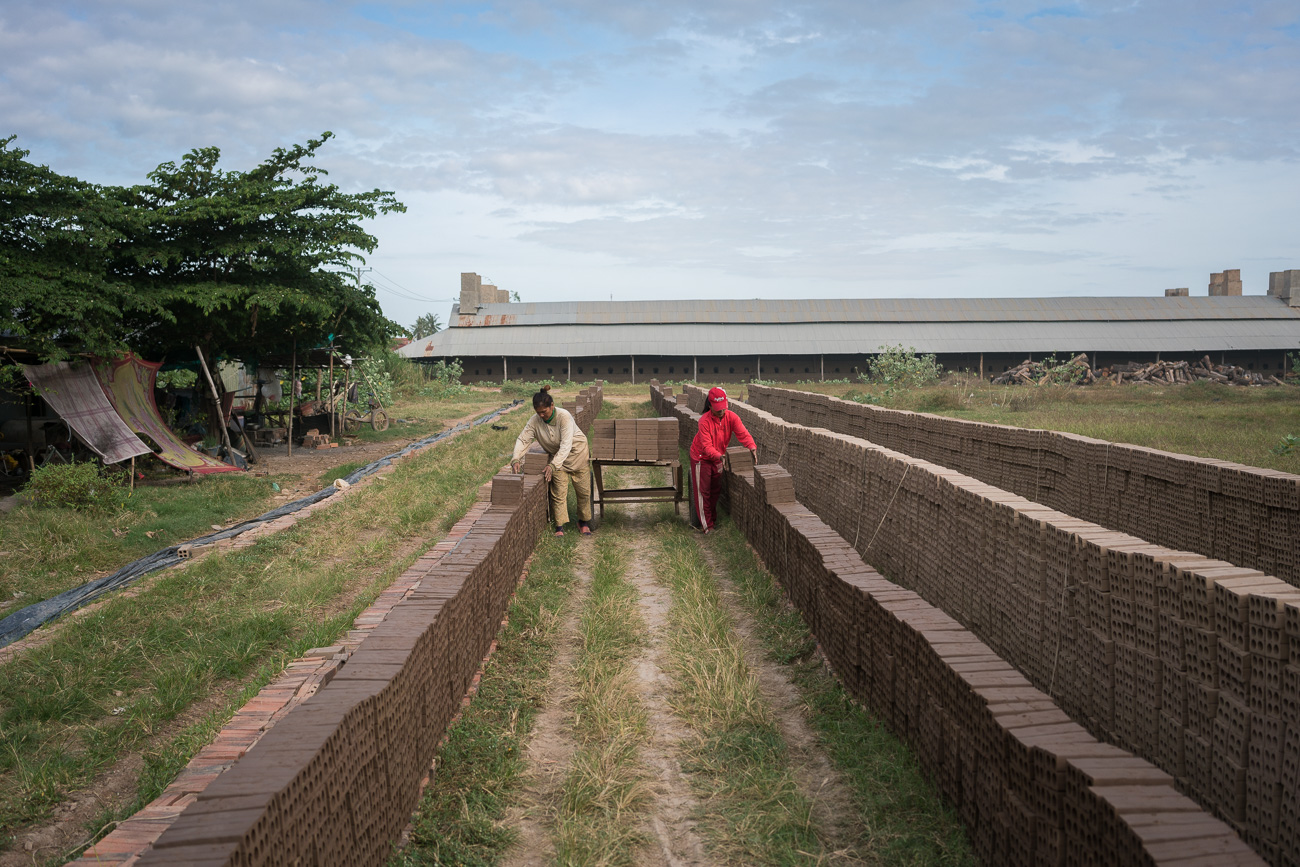 Blood Bricks - Untold Stories of Modern Slavery and Climate Chan
Srey (21) and her mother Vicheta (48) unload a cart full of bricks to dry. Her father was a farmer but when his mother got sick he had to borrow money and, unable to repay the loan he was forced to sell the land. The family borrowed more money for buying a motorcycle and to pay for their sons' wedding and they now own 5000 USD to the factory's owner. The family is payed around 200.000 riel (50 USD) to produce 20.000 bricks, a work that takes them around a week to complete. They also need to take care of the gasoline to run the machine spending an additional 4 USD per week. © Thomas Cristofoletti / Ruom for Royal Holloway, University of London
Blood Bricks - Untold Stories of Modern Slavery and Climate Chan
Garment waste dump site, located on the outskirts of Phnom Penh. The dump is also used by the city's garment industry to dispose of garment off-cuts. Some of these are intercepted by kiln owners and used as fuels for kiln fires. Garment off-cuts used on brick kilns come from garments made for a number of global brands including M&S, Walmart and J Crew. © Thomas Cristofoletti / Ruom for Royal Holloway, University of London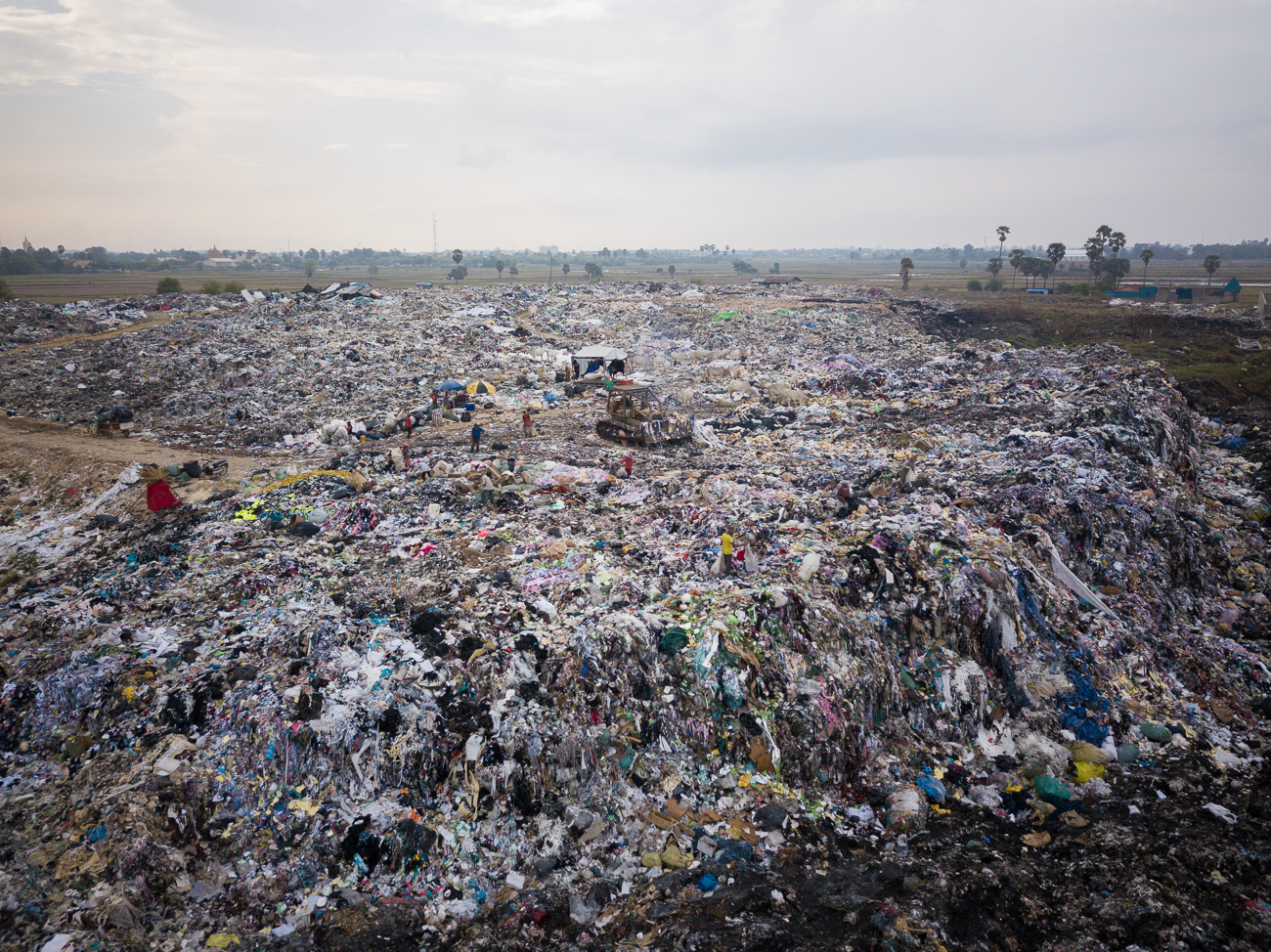 Blood Bricks - Untold Stories of Modern Slavery and Climate Chan
Aerial view of the dump used by the city's garment industry to dispose of garment off-cuts in the outskirts of Phnom Penh. Some of these are intercepted by kiln owners and used as fuels for kiln fires. Garment off-cuts used on brick kilns come from garments made for a number of global brands including M&S, Walmart and J Crew. © Thomas Cristofoletti / Ruom for Royal Holloway, University of London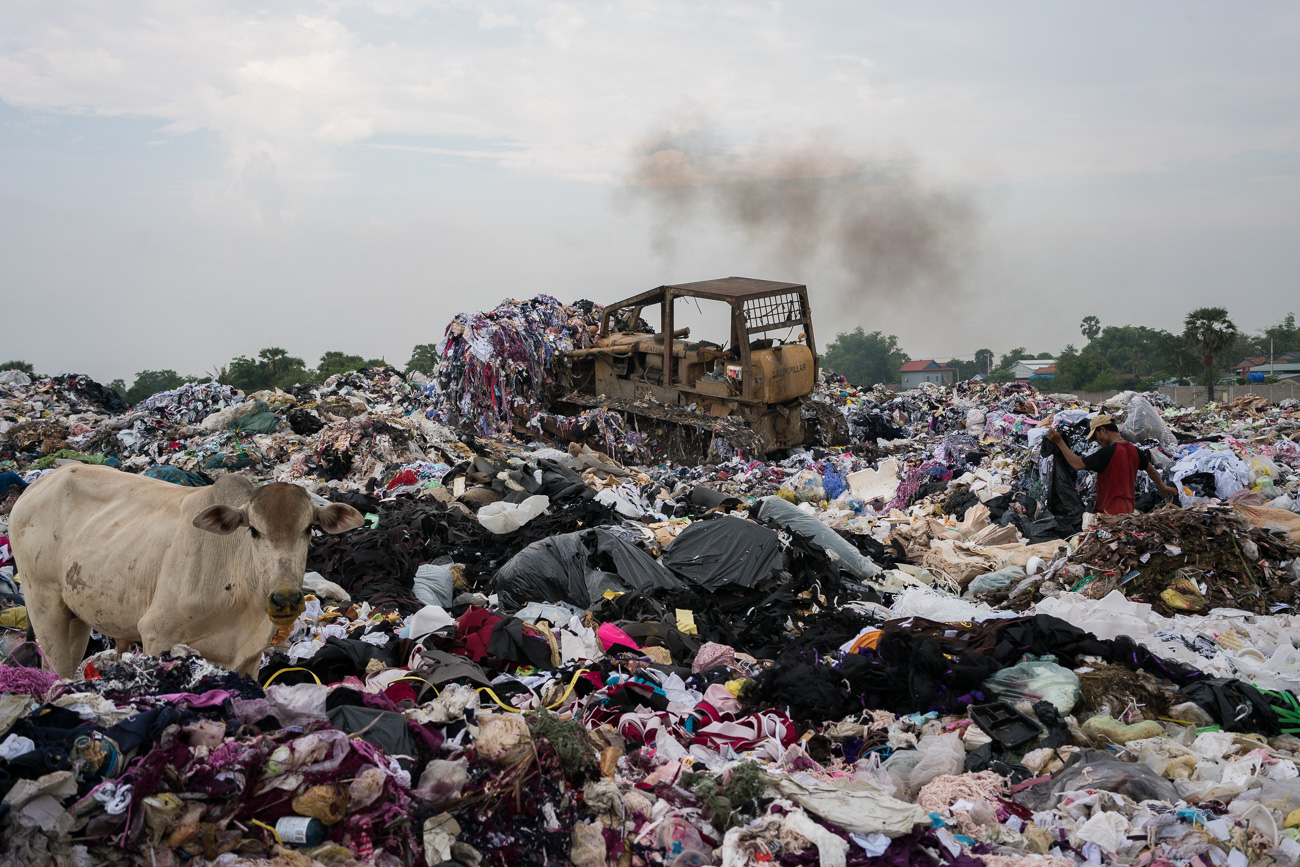 Blood Bricks - Untold Stories of Modern Slavery and Climate Chan
Garment waste dump site, located on the outskirts of Phnom Penh. The dump is also used by the city's garment industry to dispose of garment off-cuts. Some of these are intercepted by kiln owners and used as fuels for kiln fires. Garment off-cuts used on brick kilns come from garments made for a number of global brands including M&S, Walmart and J Crew. © Thomas Cristofoletti / Ruom for Royal Holloway, University of London
Blood Bricks - Untold Stories of Modern Slavery and Climate Chan
A kid plays on a pile of bags full of garment off-cuts from the garment production. Factories in this area use it as fuel creating huge columns of black smoke contaminating the houses of the people who live in the neighborhood. © Thomas Cristofoletti / Ruom for Royal Holloway, University of London
Blood Bricks - Untold Stories of Modern Slavery and Climate Chan
Children play around moulded bricks that are drying, waiting to be fired. Children often come with indebted parents to live on brick kilns. Kiln owners prefer that debt-bonded labourers bring their whole family, as it reduces the risk that they will runaway. © Thomas Cristofoletti / Ruom for Royal Holloway, University of London
Blood Bricks - Untold Stories of Modern Slavery and Climate Chan
Reaksmey and his wife Phalla use an hydraulic log-splitter to cut pieces of wood to be burn in the kilns of one of the brick factory in the outskirts of Phnom Penh. Originally from Svay Rieng province, they have been working in the factory for 2 years and they own around 1000 USD when they asked for a loan to buy a motorbike. © Thomas Cristofoletti / Ruom for Royal Holloway, University of London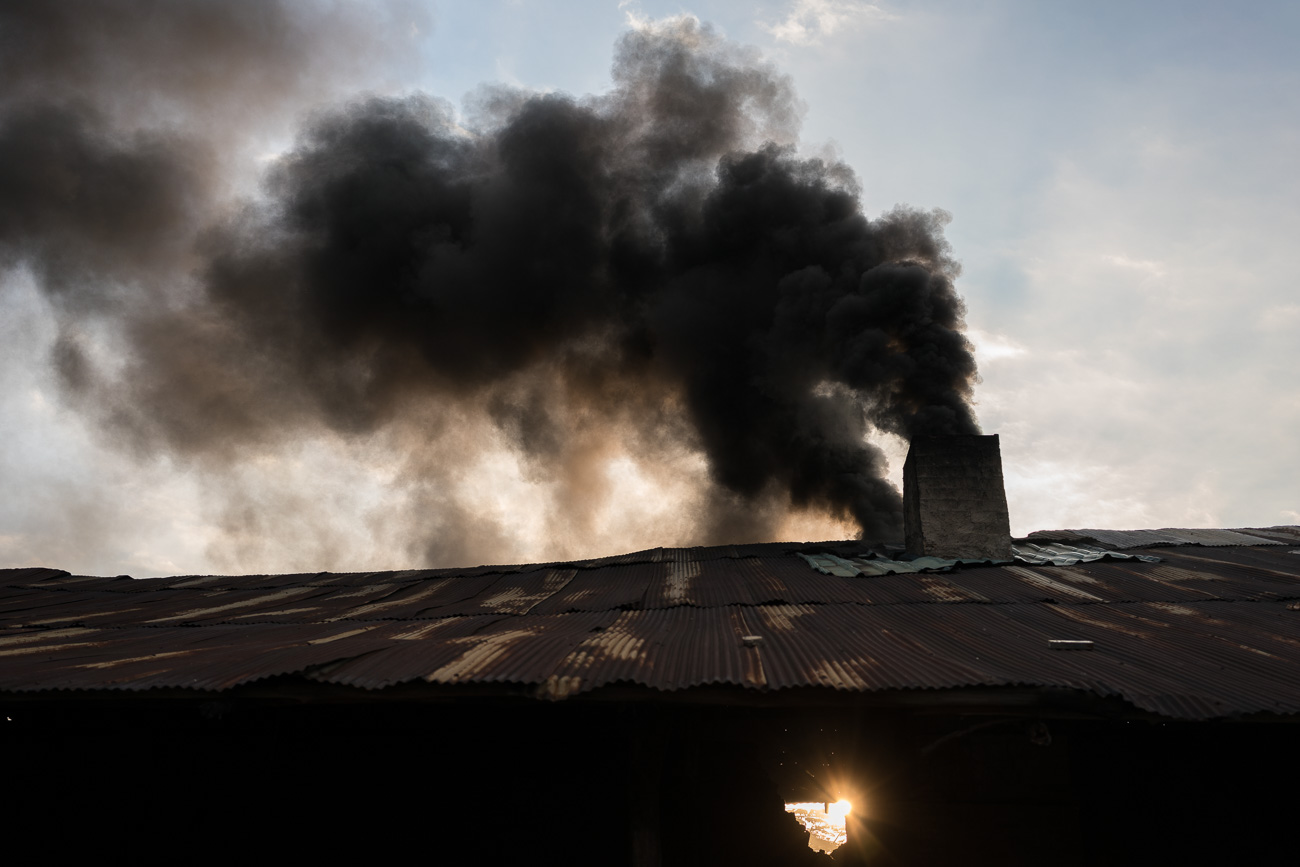 Blood Bricks - Untold Stories of Modern Slavery and Climate Chan
A thick column of blackened smoke emerges from one of the kilns where garment off-cuts are used as fuel. Kilns are located next to houses, and kiln workers and their families live on the kiln site itself, so many people are exposed to these fumes. Protective equipment for workers is minimal, and many report numerous adverse health effects. © Thomas Cristofoletti / Ruom for Royal Holloway, University of London
Blood Bricks - Untold Stories of Modern Slavery and Climate Chan
Children of kiln workers play together on site. Children of kiln workers play together on site. Some children work in kilns after school (if they attend) or at the weekends to help their parents pay off debts faster. © Thomas Cristofoletti / Ruom for Royal Holloway, University of London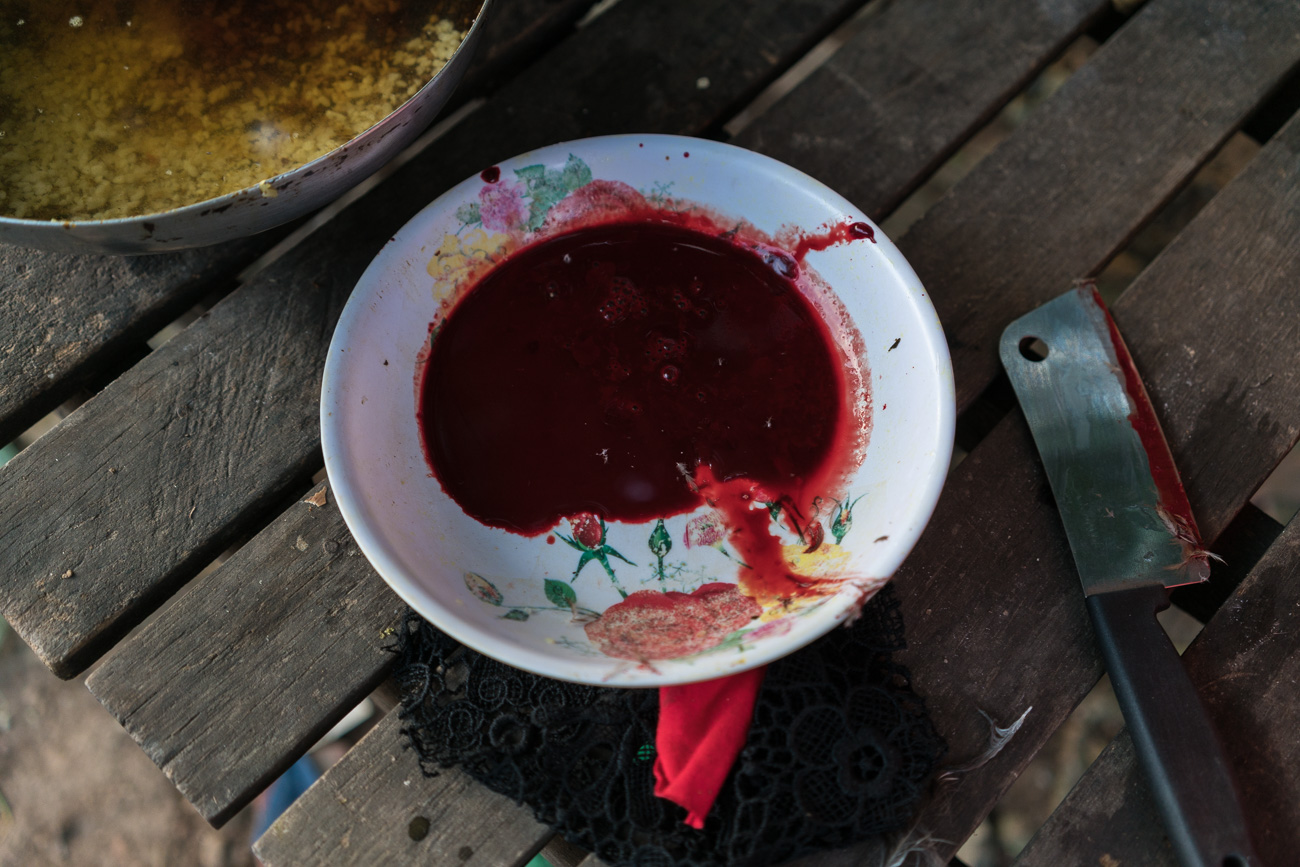 Blood Bricks - Untold Stories of Modern Slavery and Climate Chan
Blood from a duck that recently killed is put in a plate for a late consumption. Many workers subsist raising chickens and other domestic animals, collecting vegetables and fishing in ponds close to the factories. © Thomas Cristofoletti / Ruom for Royal Holloway, University of London
Blood Bricks - Untold Stories of Modern Slavery and Climate Chan
A young girl has a shower in front of one of the houses built by the owner of a brick factory in the outskirts of the Cambodian capital Phnom Penh. The owners of the factories normally provides basic house accommodation for the workers who live there with their families. © Thomas Cristofoletti / Ruom
Blood Bricks - Untold Stories of Modern Slavery and Climate Chan
The houses of debt-bonded brick workers and their families stand nestled into kiln site. Most families live in single-room corrugated iron constructions, located next to kilns. Despite the poor conditions, these are also social spaces where workers meet to eat, drink and socialise, and where many children spend their childhood. © Thomas Cristofoletti / Ruom for Royal Holloway, University of London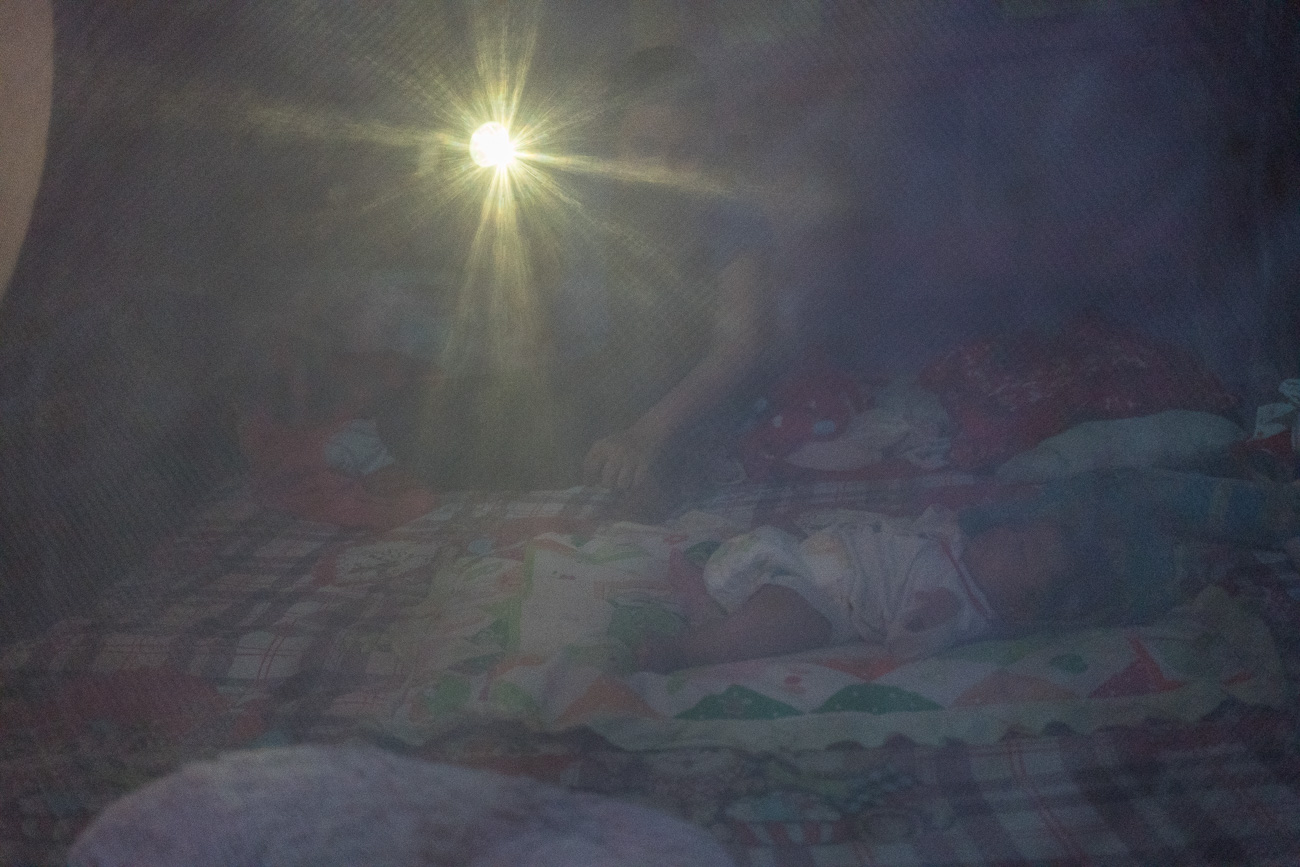 Blood Bricks - Untold Stories of Modern Slavery and Climate Chan
Kunea (23) with her newborn baby inside one of the house built for the workers of a brick factory in the outskirts of Phnom Penh. Originally from Prey Veng, she struggled to find a job at home and she decided to move to the factory together with her husband Piseth (25). They have now collected around 200 USD of debt with the owner. © Thomas Cristofoletti / Ruom for Royal Holloway, University of London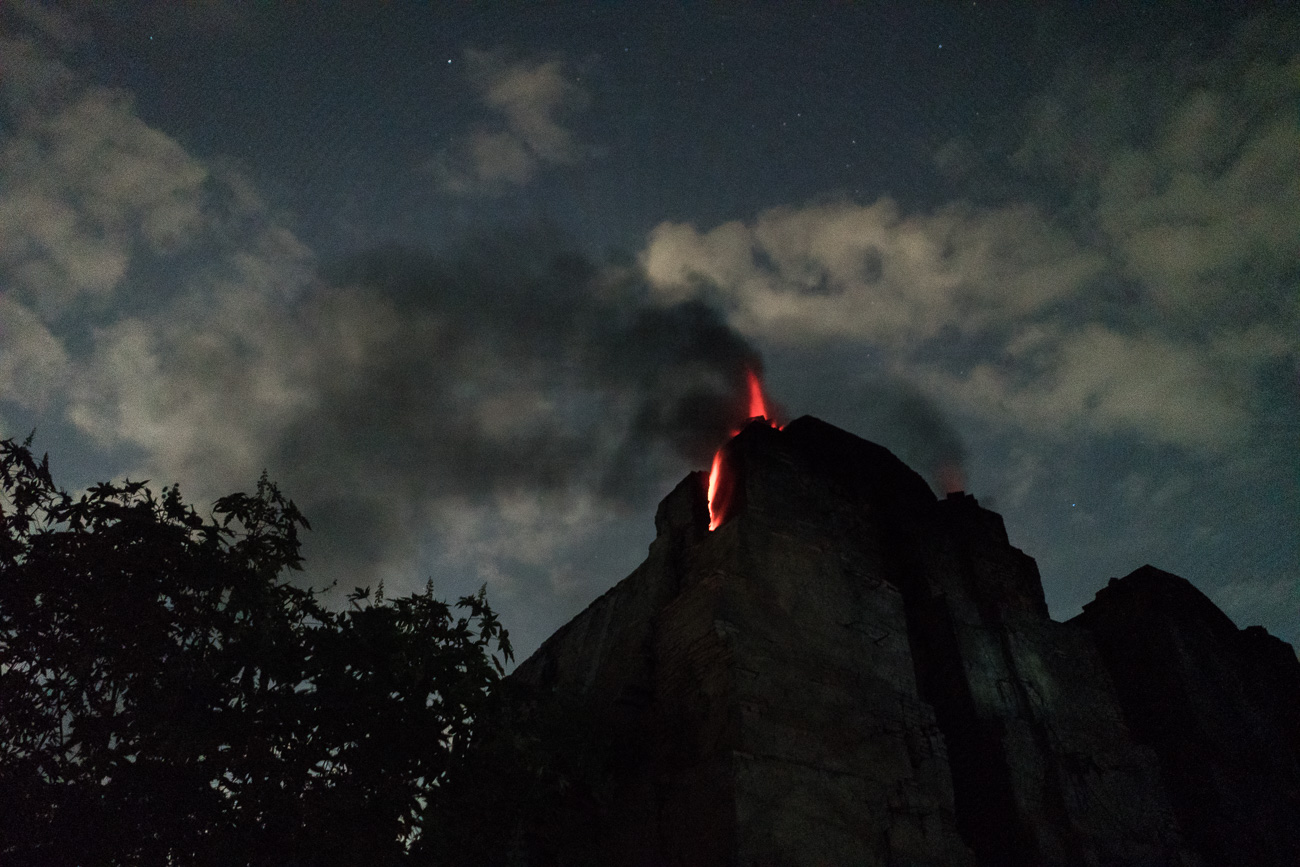 Blood Bricks - Untold Stories of Modern Slavery and Climate Chan
A thick column of blackened smoke emerges from one of the kilns where garment off-cuts are used as fuel. Kilns are located next to houses, and kiln workers and their families live on the kiln site itself, so many people are exposed to these fumes. Protective equipment for workers is minimal, and many report numerous adverse health effects. © Thomas Cristofoletti / Ruom for Royal Holloway, University of London
Blood Bricks - Untold Stories of Modern Slavery and Climate Chan
January 18, 2017 - Phnom Penh (Cambodia). Panoramic aerial view of Koh Pich (Diamond Island). The island is home to Phnom Penh's most expensive and ostentatious building projects. © Thomas Cristofoletti / Ruom