The Former Khmer Rouge Cadres Who Turned to God for Salvation
In Pailin, a province in Cambodia established for former members of Pol Pot's regime, Christianity is offering the redemption that Buddhism's karma cannot.
When the Khmer Rouge's hold over Cambodia ended in 1979, many of the cadres and leaders fled westward to continue a guerrilla war against the Vietnamese forces. Pailin, a southwestern province bordering Thailand, was considered the last Khmer Rouge-held territory until the current government agreed in 1996 to provide amnesty to the former leaders, and gifted them administrative control. During this period, Christian missionaries flooded into the border provinces in an effort to proselytize the word of God to this group whose ideology had just been toppled. Evidently, the missionaries found willing listeners as the majority of former Khmer Rouge stalwarts there are now Christians. In Pailin's capital city itself, there are 22 churches – an astonishing number in a town that is literally just an asphalt road off a national highway. This high density of churches is also notable in a country where 95 percent of the population are Buddhist.
During the course of interviewing the former cadres-turned-Christians in Pailin-- some are even pastors with home churches now -- it became clear that each individual look to their faith for different reasons, yet all are united in their belief that their past sins can be forgiven. Some believe that their former regime was "pure" and "correct" in its intent and stopped short of condemning it; others greatly regret their role in the pain caused to the country.
A story made together with journalist Dene Hern Chen and Kuch Naren
Former Khmer Rouge cadres turned Christians
August 28, 2016 - Pailin (Cambodia). Sunday church-goers stroll into Pailin's B. P. Presbyterian Church for the service. Several former Khmer Rouge cadres attend this small church weekly. © Thomas Cristofoletti / Ruom
Former Khmer Rouge cadres turned Christians
November 27, 2016 - Pailin (Cambodia). Morm Phin (75) gets ready for the Sunday's service. Morm was working as a supervisor in a garment factory during the Khmer Rouge's regime and she is now a pastor in small church outside Pailin town. © Thomas Cristofoletti / Ruom
Former Khmer Rouge cadres turned Christians
August 28, 2016 - Pailin (Cambodia). Nornh Chhay (wearing a blue t-shirt) participates in the Sunday's service at the Pailin's B. P. Presbyterian Church. Nornh was a Khmer Rouge soldier for almost 20 years and he converted to Christianity in 1996. © Thomas Cristofoletti / Ruom
Former Khmer Rouge cadres turned Christians
December 4, 2016 - Kampong Speu (Cambodia). Ing Sophat celebrates the Sunday's service at the "Khum O" presbyterian church. Ing was a former commander of a Khmer Rouge platoon and now is a pastor in the small rural church of Phnom Srouch. © Thomas Cristofoletti / Ruom
Former Khmer Rouge cadres turned Christians
November 27, 2016 - Pailin (Cambodia). Morm Phin (75) prepares her church for the Sunday's service. Morm was working as a supervisor in a garment factory during the Khmer Rouge's regime and she is now a pastor in small church outside Pailin town. © Thomas Cristofoletti / Ruom
Former Khmer Rouge cadres turned Christians
August 27, 2016 - Pailin (Cambodia). Youth practice songs ahead of the Sunday's service at Pailin's B. P. Presbyterian Church. Several former Khmer Rouge cadres attend this small church weekly. © Thomas Cristofoletti / Ruom
Former Khmer Rouge cadres turned Christians
November 27, 2016 - Pailin (Cambodia). Sok Sem (58) reads his bible together with his smaller daughter Sok Sreypao (4). Sok was a commander of a special military unit of the Khmer Rouge and he converted to christianity in 2011. © Thomas Cristofoletti / Ruom
Former Khmer Rouge cadres turned Christians
November 27, 2016 - Pailin (Cambodia). Photos of the christian wedding ceremony of Touch Sokhan's daughter, Ven Sophon. Touch is a former Khmer Rouge cadre from Kampot and he is now chief of O' Tapuk Krom's village in Pailin. © Thomas Cristofoletti / Ruom
Former Khmer Rouge cadres turned Christians
November 27, 2016 - Pailin (Cambodia). Morm Phin (75) leads the Sunday's service. Morm was working as a supervisor in a garment factory during the Khmer Rouge's regime and she is now a pastor in small church outside Pailin town. © Thomas Cristofoletti / Ruom
Former Khmer Rouge cadres turned Christians
August 27, 2016 - Pailin (Cambodia). Former chief propaganda for Pol Pot, Kon Duong, in the recording studio of his radio station. Kon Duong has been broadcasting christian program on the radio since 2004. © Thomas Cristofoletti / Ruom
Former Khmer Rouge cadres turned Christians
November 26, 2016 - Pailin (Cambodia). Youth wait oustide the Marist church of Pailin the beginning of the Saturday's service. Pailin is a small town of just 70.000 habitants but it's home of 22 churches. © Thomas Cristofoletti / Ruom
Former Khmer Rouge cadres turned Christians
November 27, 2016 - Pailin (Cambodia). An old Christian poster hang on the wall of Sok Sem's house. Sok was a commander of a special military unit of the Khmer Rouge and he converted to christianity in 2011. © Thomas Cristofoletti / Ruom
Former Khmer Rouge cadres turned Christians
August 27, 2016 - Pailin (Cambodia). Tun Vann (on the left corner) sits on a chair, while a buddhist ceremony is held to commemorate the death of her husband Kong Hei. A Christian priest organized a small celebration in the morning, but Tun couldn't afford the full funeral service and her landlord, a practicing Buddhist, offered to organize and fund one. Despite Tun and her husband's religious affiliation as Christians, he insisted on Buddhist funeral rites. Both her and her late husband joined the Khmer Rouge in 1997. © Thomas Cristofoletti / Ruom
Former Khmer Rouge cadres turned Christians
November 27, 2016 - Pailin (Cambodia). A group of Australian christians participates in the Sunday's mass in one of the local church. Pailin was considered the last Khmer Rouge-held territory until the current government agreed in 1996 to provide amnesty to the former leaders, and gifted them administrative control. During this period, Christian missionaries flooded into the border provinces in an effort to proselytize the word of God to this group whose ideology had just been toppled. © Thomas Cristofoletti / Ruom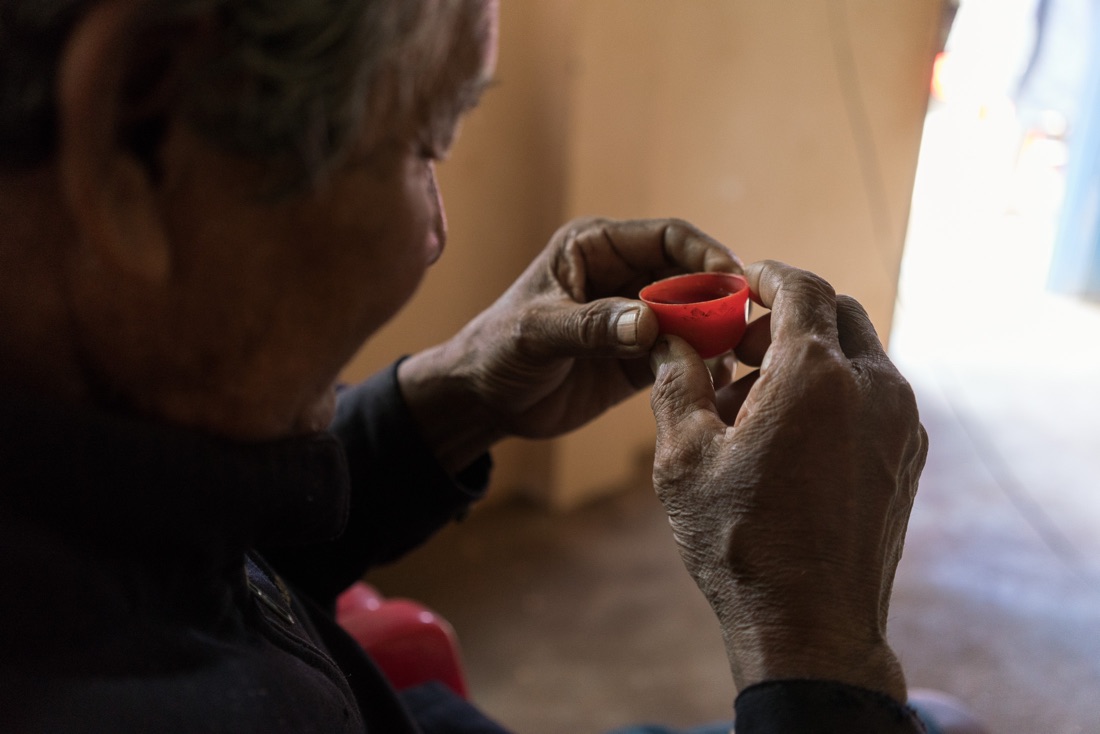 Former Khmer Rouge cadres turned Christians
December 4, 2016 - Kampong Speu (Cambodia). A man holds a cup of Sacramental wine during the Sunday's service at the "Khum O" presbyterian church. The pastor of the church, Ing Sophat, was a former commander of a Khmer Rouge platoon. © Thomas Cristofoletti / Ruom
Former Khmer Rouge cadres turned Christians
November 23, 2016 - Pailin (Cambodia). A small christmas trees is seen inside the house of Moses Samol Seth, a Cambodian pastor who leads AGAPE, a christian organization. He personally converted to christianity hundreds of former Khmer Rouge cadres during the 90s. © Thomas Cristofoletti / Ruom
Former Khmer Rouge cadres turned Christians
August 28, 2016 - Pailin (Cambodia). Mut Sivon (third from the right) sings during the Sunday's mass at the Pailin KwangMyoung Church - one of the biggest in town. When she was just 18, she was helping to carry weapons and supplies for the Khmer Rouge. She converted to Christianity in 2001. © Thomas Cristofoletti / Ruom
Former Khmer Rouge cadres turned Christians
November 27, 2016 - Pailin (Cambodia). Touch Sokhan works in the courtyard of his house. Touch is a former Khmer Rouge cadre from Kampot and he is now chief of O' Tapuk Krom's village in Pailin. He lost a leg stepping on a landmine and converted to Christian thanks to his daughter. © Thomas Cristofoletti / Ruom
Former Khmer Rouge cadres turned Christians
November 28, 2016 - Pailin (Cambodia). One of Nornh Chhay's nephew plays with his dog. Nornh was a Khmer Rouge soldier for almost 20 years and he converted to Christianity in 1996. © Thomas Cristofoletti / Ruom
Former Khmer Rouge cadres turned Christians
August 27, 2016 - Pailin (Cambodia). Christmas decoration inside the Pailin's B. P. Presbyterian Church. Several former Khmer Rouge cadres attend this small church weekly. © Thomas Cristofoletti / Ruom
Former Khmer Rouge cadres turned Christians
December 4, 2016 - Kampong Speu (Cambodia). A young girl prepare a bag to collect donations during the Sunday's service at the "Khum O" presbyterian church. The pastor of the church, Ing Sophat, was a former commander of a Khmer Rouge platoon. © Thomas Cristofoletti / Ruom
Former Khmer Rouge cadres turned Christians
August 27, 2016 - Pailin (Cambodia). A buddhist nun sweeps the floor of one of the pagoda at Wat Phnom Yat, one of the few religious buildings that survived the Khmer Rouge's regime. Religion during that years was banned, all leading Buddhist monks were killed and almost 95% of the pagodas around Cambodia were destroyed and turned the remaining few into warehouses or allocated them for some other degrading use. © Thomas Cristofoletti / Ruom
Former Khmer Rouge cadres turned Christians
November 27, 2016 - Pailin (Cambodia). Kids play during the Sunday's service leaded by pastor Morm Phin. Morm was working as a supervisor in a garment factory during the Khmer Rouge's regime and she is now a pastor in small church outside Pailin town. © Thomas Cristofoletti / Ruom
Former Khmer Rouge cadres turned Christians
November 28, 2016 - Pailin (Cambodia). Nornh Chhay reads the bible with a smartphone's app that his nephew downloaded for him. Nornh was a Khmer Rouge soldier for almost 20 years and he converted to Christianity in 1996. © Thomas Cristofoletti / Ruom
Former Khmer Rouge cadres turned Christians
November 27, 2016 - Pailin (Cambodia). Sok Sem (58) with his smaller daughter Sok Sreypao (4). Sok was a commander of a special military unit of the Khmer Rouge and he converted to christianity in 2011. © Thomas Cristofoletti / Ruom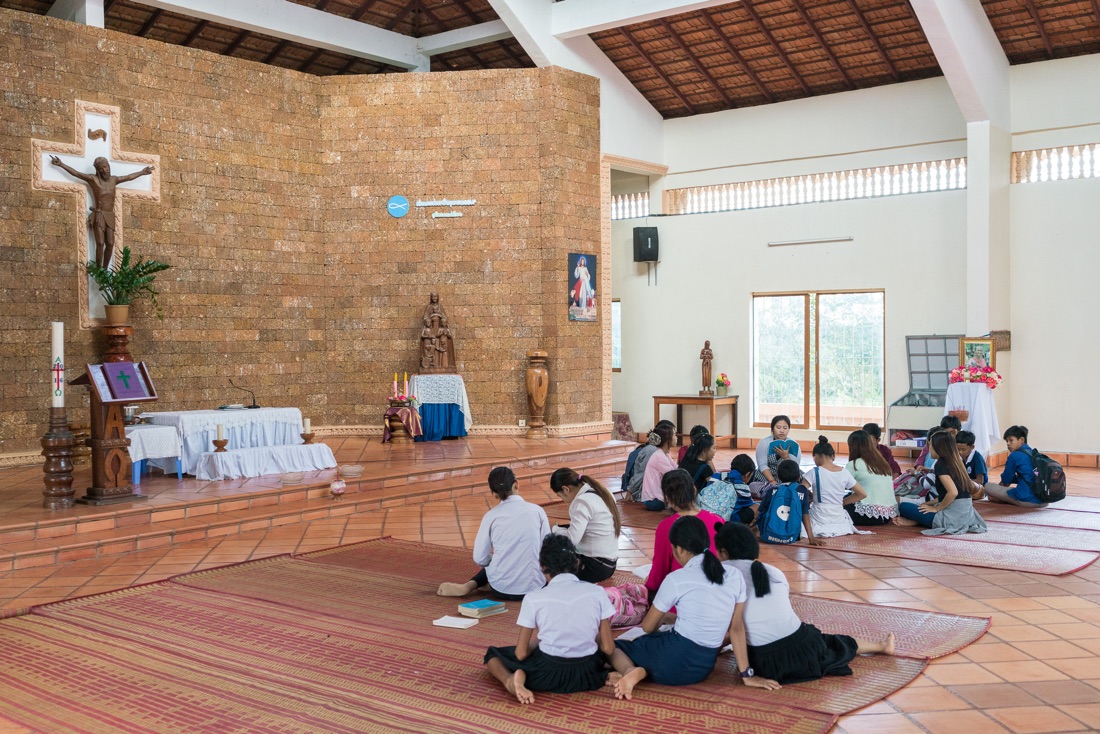 Former Khmer Rouge cadres turned Christians
November 26, 2016 - Pailin (Cambodia). Youth practice songs in the Marist church of Pailin ahead of the Saturday's service. Pailin is a small town of just 70.000 habitants but it's home of 22 churches. © Thomas Cristofoletti / Ruom
Former Khmer Rouge cadres turned Christians
August 27, 2016 - Pailin (Cambodia). Youth practice songs ahead of the Sunday's service at Pailin's B. P. Presbyterian Church. Several former Khmer Rouge cadres attend this small church weekly. © Thomas Cristofoletti / Ruom
Former Khmer Rouge cadres turned Christians
November 26, 2016 - Pailin (Cambodia). A view of the Marist church of Pailin during the Saturday's service. Pailin, one of the last stronghold of the Khmer Rouge, is a small town of just 70.000 habitants but it's home of 22 churches. © Thomas Cristofoletti / Ruom