IL MAGGIO DI ACCETTURA
The small, isolated town of Accettura, comes to life with a burst of vibrant tradition for the "Maggio di Accettura" festival of May - one of the most important celebrations of the year for it's inhabitants.

Surrounded by forests, in the remote region of Basilicata, Southern Italy, Accettura stands almost untouched by time during its annual celebration. Still rich in tradition, celebrating festivals that date back to Pagan times - its isolation has allowed for such preservation.

Maggio Di Accettura, being a four-day Pagan fertility ritual that has survived over the centuries, where two trees - the "Maggio" a tall old oak, and the "cima" a holly tree - are cut from the forests surrounding Accettura, to be transported back into town. The Maggio pulled by one-hundred oxen that are bred for the occasion, while the Cima is carried on shoulder by the town's young men for over 20 km. Where they are later joined in a symbolic wedding ceremony.

With the festival being of such great significance to the community, every year hundreds of emigrants dispersed all over Europe and the State's, return back to Accettura, to attend and partake in the celebrations.

The Maggio di Accettura, is a unique combination of paganism and religion, belief and superstition, excessive partying, hard work, and traditional craftsmanship.
Il Maggio di Accettura
May 23, 2015 - Accettura, Matera (Italy). View of the small town of Accettura where the festival is held every year. © Thomas Cristofoletti / Ruom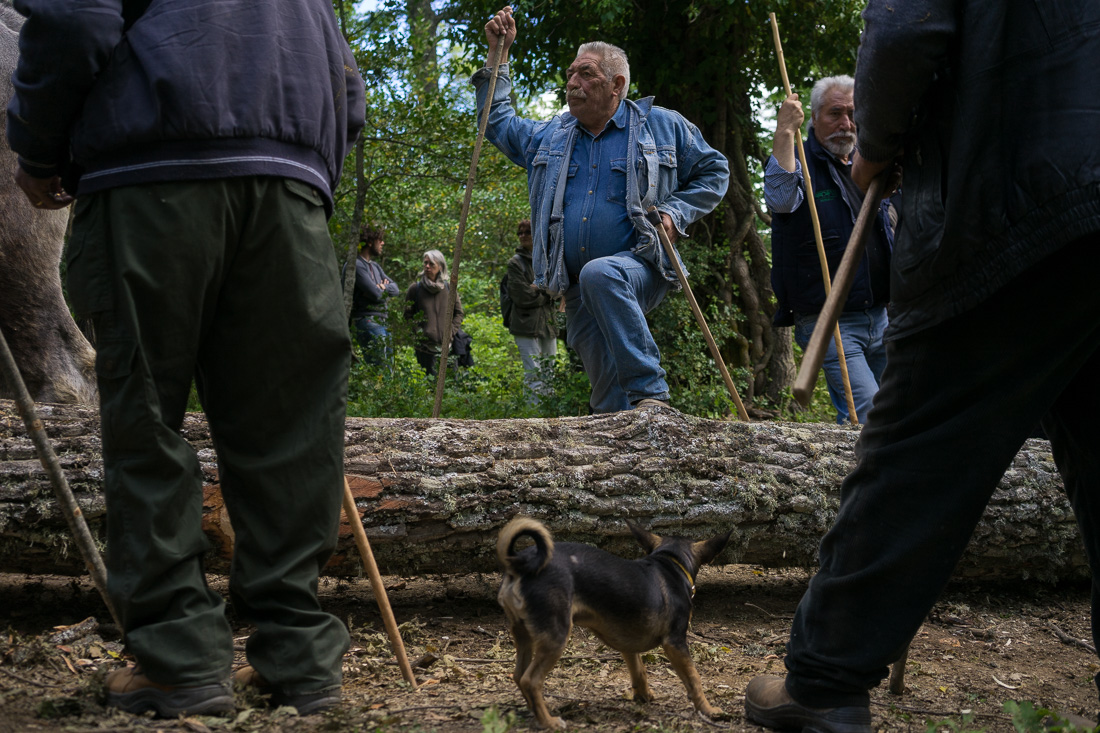 Il Maggio di Accettura
May 23, 2015 - Accettura, Matera (Italy). Locals rest during the transportation of the "maggio". Fifty pairs of oxen transport the old oak cut from Montepiano forest for a 10km ride to Accettura. Considered by manys as an ancient wedding ceremony, the festival represents a popular arboreal cult, where the "Maggio" joins a holly called "Cima". The "Maggio" comes to town pulled by oxen while the "Cima" is carried on shoulders by the youth of the town. © Thomas Cristofoletti / Ruom
Il Maggio di Accettura
May 23, 2015 - Accettura, Matera (Italy). Fifty pairs of oxen start to transport the "Maggio", an old oak cut in Montepiano forest - a 10 km away from the Accettura. Considered by manys as an ancient wedding ceremony, the festival represents a popular arboreal cult, where the "Maggio" joins a holly called "Cima". The "Maggio" comes to town pulled by oxen while the "Cima" is carried on shoulders by the youth of the town. © Thomas Cristofoletti / Ruom
Il Maggio di Accettura
May 23, 2015 - Accettura, Matera (Italy). Locals rest during the transportation of the "maggio". Fifty pairs of oxen transport the old oak cut from Montepiano forest for a 10km ride to Accettura. Considered by manys as an ancient wedding ceremony, the festival represents a popular arboreal cult, where the "Maggio" joins a holly called "Cima". The "Maggio" comes to town pulled by oxen while the "Cima" is carried on shoulders by the youth of the town. © Thomas Cristofoletti / Ruom
Il Maggio di Accettura
May 24, 2015 - Accettura, Matera (Italy). Wine and local specialities such as "zeppole" - a traditional deep-fried dough ballfood - and fried codfish are consumed along the route of the "cima" into town. © Thomas Cristofoletti / Ruom
Il Maggio di Accettura
May 23, 2015 - Accettura, Matera (Italy). Anna Podetta put the finishing touches to a "centa", a traditional head dress made of candels and flowers, paraded by the local women to pay homage to Saint Julian. Since she moved from the north of Italy to Accettura in 1982, she's been building the "cente" every year for different families of the small town. © Thomas Cristofoletti / Ruom
Il Maggio di Accettura
May 24, 2015 - Accettura, Matera (Italy). Villagers are transported by trucks to the forest of Gallipoli Cognato - 20 km away from Accettura - where they will cut the "Cima" and carry it on shoulders into town. © Thomas Cristofoletti / Ruom
Il Maggio di Accettura
May 24, 2015 - Accettura, Matera (Italy). Wine and local specialities such as "zeppole" - a traditional deep-fried dough ballfood - and fried codfish are consumed along the route of the "cima" into town. © Thomas Cristofoletti / Ruom
Il Maggio di Accettura
May 24, 2015 - Accettura, Matera (Italy). Villagers are transported by trucks to the forest of Gallipoli Cognato - 20 km away from Accettura - where they will cut the "Cima" and carry it on shoulders into town. © Thomas Cristofoletti / Ruom
Il Maggio di Accettura
May 24, 2015 - Accettura, Matera (Italy). Villagers start to carry the - recently cut - "cima" on their shoulders for a 20 km walk into town. © Thomas Cristofoletti / Ruom
Il Maggio di Accettura
May 24, 2015 - Accettura, Matera (Italy). Villagers start to carry the - recently cut - "cima" on their shoulders for a 20 km walk into town. © Thomas Cristofoletti / Ruom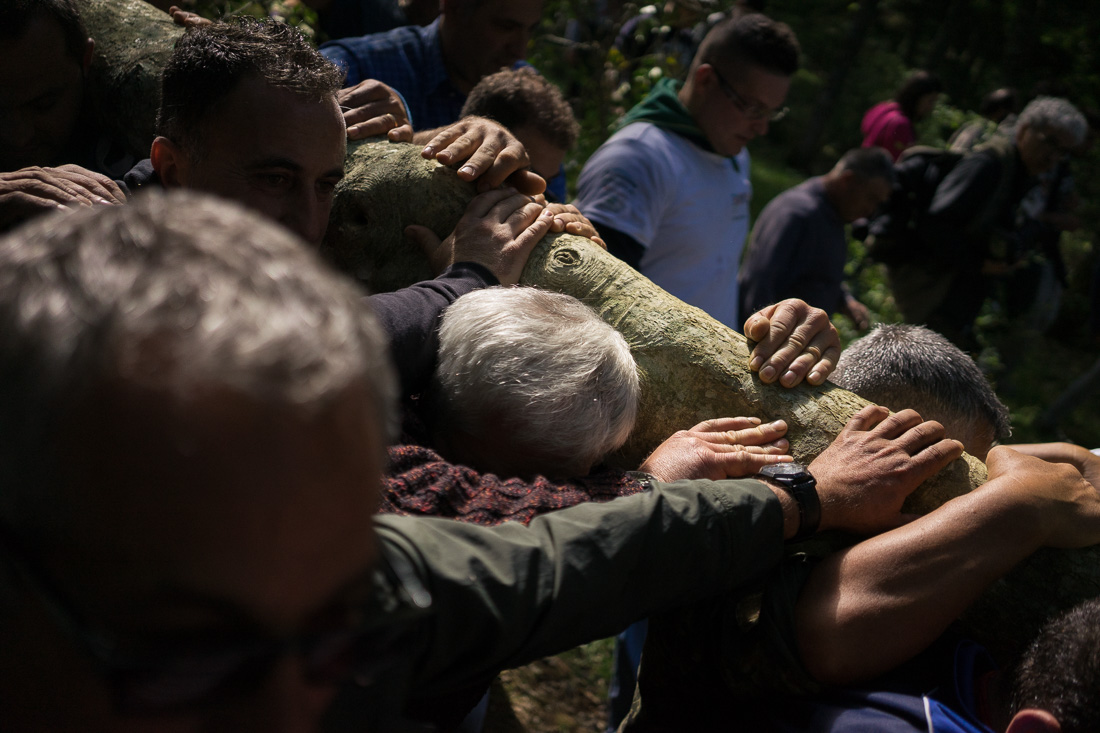 Il Maggio di Accettura
May 24, 2015 - Accettura, Matera (Italy). Villagers start to carry the - recently cut - "cima" on their shoulders for a 20 km walk into town. © Thomas Cristofoletti / Ruom
Il Maggio di Accettura
May 24, 2015 - Accettura, Matera (Italy). While the "cima" is transported on shoulders into town, the "maggio" continues his journey driven by oxen. © Thomas Cristofoletti / Ruom
Il Maggio di Accettura
May 23, 2015 - Accettura, Matera (Italy). Close up of one of the fifty pairs of oxen used to transport the "Maggio", an old oak cut in Montepiano forest - a 10 km away from the Accettura. Considered by manys as an ancient wedding ceremony, the festival represents a popular arboreal cult, where the "Maggio" joins a holly called "Cima". The "Maggio" comes to town pulled by oxen while the "Cima" is carried on shoulders by the youth of the town. © Thomas Cristofoletti / Ruom
Il Maggio di Accettura
May 24, 2015 - Accettura, Matera (Italy). Flowers and a picture of Saint Julian adorn the head of one of the oxen used to transport the "Maggio" into town. © Thomas Cristofoletti / Ruom
Il Maggio di Accettura
May 24, 2015 - Accettura, Matera (Italy). A group of old women wait for the passage of the "cima". © Thomas Cristofoletti / Ruom
Il Maggio di Accettura
May 24, 2015 - Accettura, Matera (Italy). After being carried on the shoulders by groups of young people for over 20km, the "cima" is finally paraded through the streets of Accettura. © Thomas Cristofoletti / Ruom
Il Maggio di Accettura
May 24, 2015 - Accettura, Matera (Italy). After being carried on the shoulders by groups of young people for over 20km, the "cima" is finally paraded through the streets of Accettura. © Thomas Cristofoletti / Ruom
Il Maggio di Accettura
May 24, 2015 - Accettura, Matera (Italy). A young man celebrates the arrival of the "cima" in Accettura hanging from one of its branch. © Thomas Cristofoletti / Ruom
Il Maggio di Accettura
May 24, 2015 - Accettura, Matera (Italy). After a 2-day journey, the "maggio" finally arrives into town driven by oxen. © Thomas Cristofoletti / Ruom
Il Maggio di Accettura
May 25, 2015 - Accettura, Matera (Italy). Don Giuseppe Filardi, the priest of Accettura, leads a procession to carry an ancient painting representing Saint John and Paul. © Thomas Cristofoletti / Ruom
Il Maggio di Accettura
May 26, 2015 - Accettura, Matera (Italy). Locals work at the winch to raise part of the mechanism to lift the "Maggio". The festival is very popular and enjoys a living tradition. Every year, hundreds of emigrants return back to Accettura to attend and help with the celebrations. © Thomas Cristofoletti / Ruom
Il Maggio di Accettura
May 26, 2015 - Accettura, Matera (Italy). Locals work at the winch to raise part of the mechanism to lift the "Maggio". The festival is very popular and enjoys a living tradition. Every year, hundreds of emigrants return back to Accettura to attend and help with the celebrations. © Thomas Cristofoletti / Ruom
Il Maggio di Accettura
May 26, 2015 - Accettura, Matera (Italy). A band acccompanies the statue of Saint Julian during a procession through the streets of the small town. © Thomas Cristofoletti / Ruom
Il Maggio di Accettura
May 26, 2015 - Accettura, Matera (Italy). A statue of Saint Julian is pareded through the streets of the small town. © Thomas Cristofoletti / Ruom
Il Maggio di Accettura
May 26, 2015 - Accettura, Matera (Italy). A statue of Saint Julian is pareded through the streets of the small town. © Thomas Cristofoletti / Ruom
Il Maggio di Accettura
May 25, 2015 - Accettura, Matera (Italy). Old women wait for the passage of the statue of Saint Julian. © Thomas Cristofoletti / Ruom
Il Maggio di Accettura
May 26, 2015 - Accettura, Matera (Italy). A statue of Saint Julian is pareded through the streets of the small town. © Thomas Cristofoletti / Ruom
Il Maggio di Accettura
May 26, 2015 - Accettura, Matera (Italy). Fireworks are fired after the end of the procession in honor of Saint Julian. © Thomas Cristofoletti / Ruom
Il Maggio di Accettura
May 26, 2015 - Accettura, Matera (Italy). Locals work at the winch to raise part of the mechanism to lift the "Maggio". The festival is very popular and enjoys a living tradition. Every year, hundreds of emigrants return back to Accettura to attend and help with the celebrations. © Thomas Cristofoletti / Ruom
Il Maggio di Accettura
May 26, 2015 - Accettura, Matera (Italy). Locals work at the winch to raise part of the mechanism to lift the "Maggio". The festival is very popular and enjoys a living tradition. Every year, hundreds of emigrants return back to Accettura to attend and help with the celebrations. © Thomas Cristofoletti / Ruom
Il Maggio di Accettura
May 26, 2015 - Accettura, Matera (Italy). Locals work at the winch to raise part of the mechanism to lift the "Maggio". The festival is very popular and enjoys a living tradition. Every year, hundreds of emigrants return back to Accettura to attend and help with the celebrations. © Thomas Cristofoletti / Ruom
Il Maggio di Accettura
May 26, 2015 - Accettura, Matera (Italy). Locals work at the winch to raise part of the mechanism to lift the "Maggio". The festival is very popular and enjoys a living tradition. Every year, hundreds of emigrants return back to Accettura to attend and help with the celebrations. © Thomas Cristofoletti / Ruom
Il Maggio di Accettura
May 26, 2015 - Accettura, Matera (Italy). The family of Filomena Bartilucci (center) put finishing touches to a "centa", a traditional head dress made of candels and flowers, paraded by the local women to pay homage to Saint Julian. © Thomas Cristofoletti / Ruom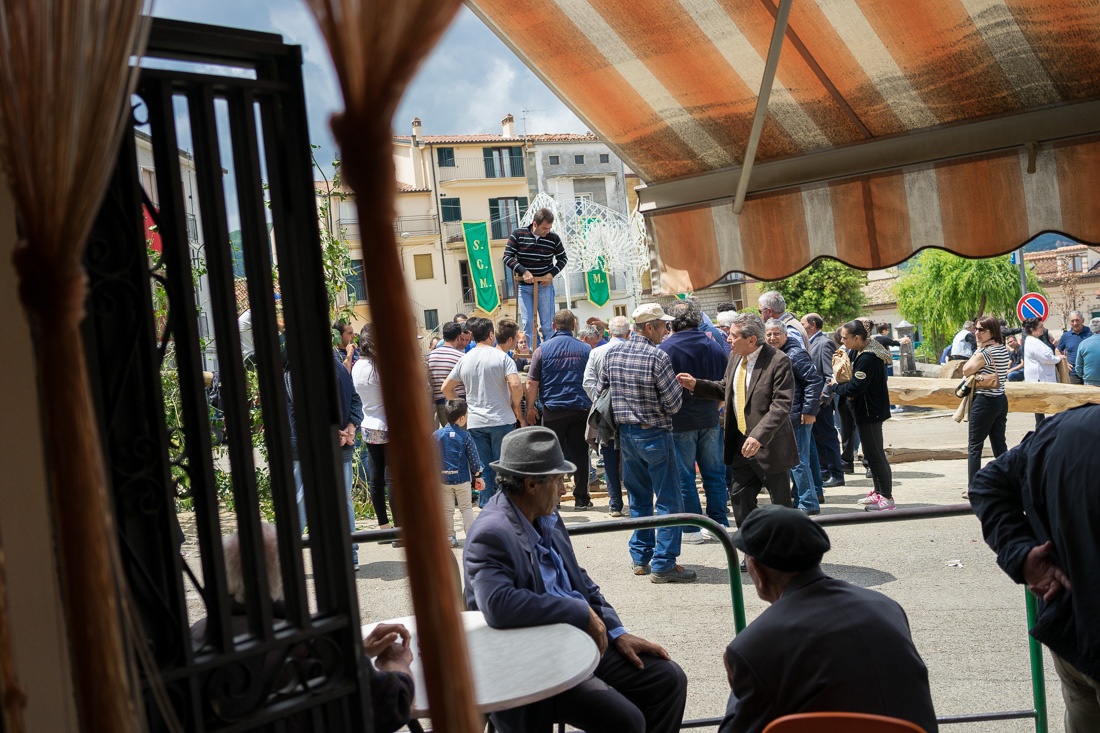 Il Maggio di Accettura
May 26, 2015 - Accettura, Matera (Italy). Old men wait for the passage of the statue of Saint Julian. © Thomas Cristofoletti / Ruom
Il Maggio di Accettura
May 26, 2015 - Accettura, Matera (Italy). Old women wait for the passage of the statue of Saint Julian. © Thomas Cristofoletti / Ruom
Il Maggio di Accettura
May 26, 2015 - Accettura, Matera (Italy). Under a torrential rain, the "Maggio" and the "cima" are finally joined together and raised over the main square of Accettura. © Thomas Cristofoletti / Ruom
Il Maggio di Accettura
May 26, 2015 - Accettura, Matera (Italy). Filomena Bartilucci transports on her head a "centa", a traditional head dress made of candels and flowers, to pay homage to Saint Julian. © Thomas Cristofoletti / Ruom
Il Maggio di Accettura
May 26, 2015 - Accettura, Matera (Italy). Under a torrential rain, the "Maggio" and the "cima" are finally joined together and raised over the main square of Accettura. © Thomas Cristofoletti / Ruom
Il Maggio di Accettura
May 26, 2015 - Accettura, Matera (Italy). Under a torrential rain, the "Maggio" and the "cima" had been finally joined together and raised over the main square of Accettura and the villagers continue to the local church for the final mass. © Thomas Cristofoletti / Ruom
Il Maggio di Accettura
May 26, 2015 - Accettura, Matera (Italy). Under a torrential rain, the "Maggio" and the "cima" are finally joined together and raised over the main square of Accettura. © Thomas Cristofoletti / Ruom
Il Maggio di Accettura
May 26, 2015 - Accettura, Matera (Italy). Under a torrential rain, the "Maggio" and the "cima" are finally joined together and raised over the main square of Accettura. © Thomas Cristofoletti / Ruom