THE PRINCESS OF THE TONG SETAN
Karmila Purba takes a lot of flack for her choice of profession. She rides a modified motorbike around the sides of a Tong Setan – or "Satan's barrel" – what Indonesians call the carnival attraction commonly known as the "Wall of Death."
While critics accuse her of not being a "good woman" for working in the male-dominated carnival world, others applaud her for breaking stereotypes in the conservative country.
Purba's loyal followers have even given her a nickname – "Princess of the Tong Setan".
The Princess of the Tong Setan
February 9, 2019 - Parlilitan (Indonesia). Aerial view of the itinerant funfair (Pasar Malam in Indonesian) where Karmila works set in the remote town of Parlilitan in North Sumatra. The riders of the "tong Setan" are one of the main attractions of the itinerant funfairs in the Indonesian archipelago. They represent one of the few entertainment options in rural areas and for Karmila a good economic opportunity to help her family. © Thomas Cristofoletti / Ruom
The Princess of the Tong Setan
February 8, 2019 - Parlilitan (Indonesia). Karmila (20) watches while her "Tong Setan" rider colleagues work on her motorbike to prepare it for an afternoon training session. The exhaust pipes are removed from the motorbikes to make the engines sound louder to make the audience feel the noise. © Thomas Cristofoletti / Ruom
The Princess of the Tong Setan
February 8, 2019 - Parlilitan (Indonesia). Karmila (20) rides her motorbike inside the "Tong Setan" during an afternoon training session. Riders make money catching bills that the public hang from the top of the structure and can earn up to 4 million rupiah a month (285 USD). © Thomas Cristofoletti / Ruom
The Princess of the Tong Setan
February 8, 2019 - Parlilitan (Indonesia). Karmila (20) hands out a bill to her follow rider Sapong Sinaga (24) during an afternoon training session. The riders of the "tong Setan" are one of the main attractions of the itinerant funfairs and make money catching bills that the public hang from the top of the structure. © Thomas Cristofoletti / Ruom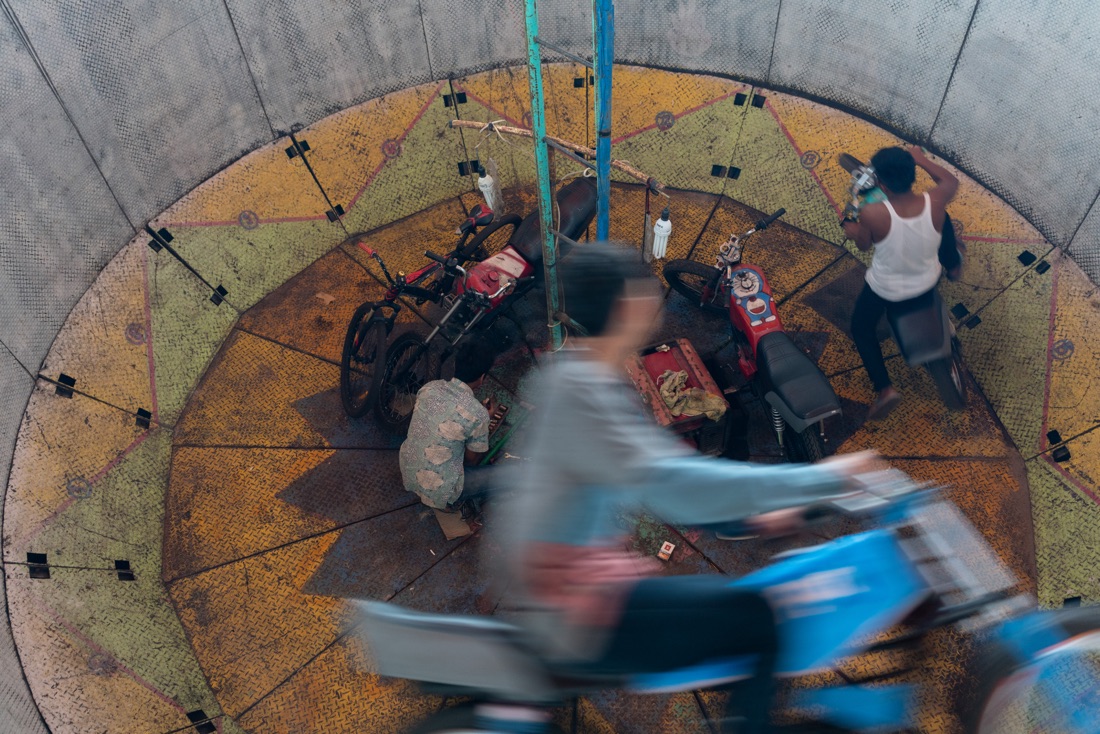 The Princess of the Tong Setan
February 8, 2019 - Parlilitan (Indonesia). "Tong Setan" riders during an afternoon training session. Riders make money catching bills that the public hang from the top of the structure and can earn up to 4 million rupiah a month (285 USD). © Thomas Cristofoletti / Ruom
The Princess of the Tong Setan
February 8, 2019 - Parlilitan (Indonesia). Pangeran Nasution (23) performs a trick with his motorbike during an afternoon training session. The riders of the "Tong Setan" are one of the main attractions of the itinerant funfairs in the Indonesian archipelago. They represent one of the few entertainment options in rural areas and a good economic opportunity to get a decent income. © Thomas Cristofoletti / Ruom
The Princess of the Tong Setan
February 8, 2019 - Parlilitan (Indonesia). Karmila (20) watches while her "Tong Setan" rider colleagues ride their motorbike during an afternoon training session. Riders in the "Tong Setan" can earn up to 4 million rupiah a month (around 285 USD), while the minimum wage in North Sumatra province in 2019 is around 160 USD. © Thomas Cristofoletti / Ruom
The Princess of the Tong Setan
February 8, 2019 - Parlilitan (Indonesia). Karmila (20) gets ready for an evening of work at the "Pasar Malam". She started riding in the "Tong Setan" four years ago and she recently gained popularity on social media with thousands of people following her performances. The "Tong Setan" represent one of the few entertainment options in rural areas and for Karmila a good economic opportunity to help her family. © Thomas Cristofoletti / Ruom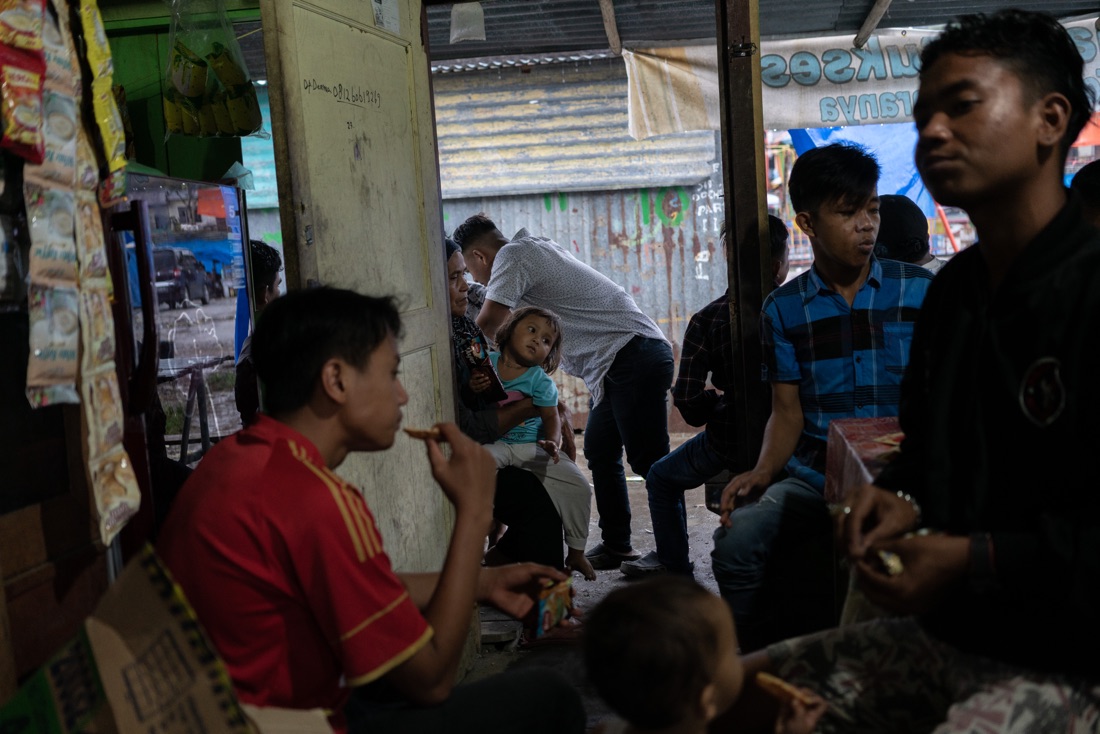 The Princess of the Tong Setan
February 8, 2019 - Parlilitan (Indonesia). Karmila (20) and the other "Tong Setan" riders kill time before the opening of the funfair playing with their phones. The income for the people of the "Pasar Malam" is hardly impacted by the unpredictability of the weather especially during the monsoon season when they can earn just half of their normal earnings. © Thomas Cristofoletti / Ruom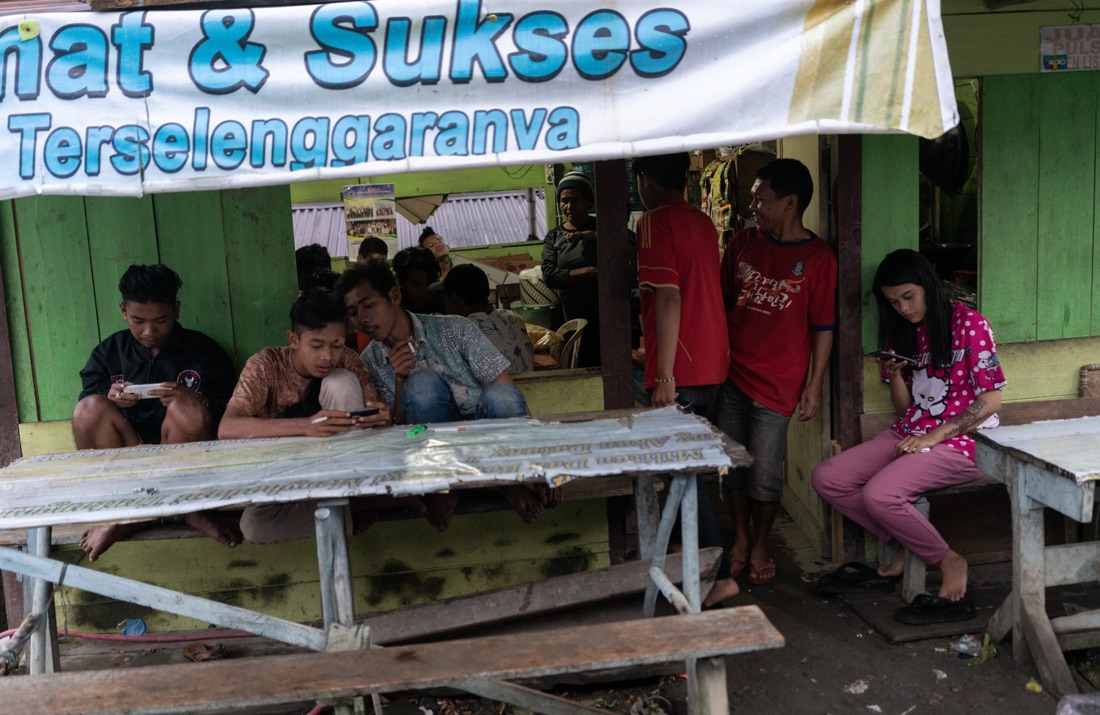 The Princess of the Tong Setan
February 8, 2019 - Parlilitan (Indonesia). Karmila (20) and the other "Tong Setan" riders kill time before the opening of the funfair playing with their phones. The income for the people of the "Pasar Malam" is hardly impacted by the unpredictability of the weather especially during the monsoon season when they can earn just half of their normal earnings. © Thomas Cristofoletti / Ruom
The Princess of the Tong Setan
February 8, 2019 - Parlilitan (Indonesia). Karmila (20) helps preparing food for the workers of the "Pasar Malam". She recently got married with Agung, another "Tong Setan" rider and the son of the owner of the funfair. © Thomas Cristofoletti / Ruom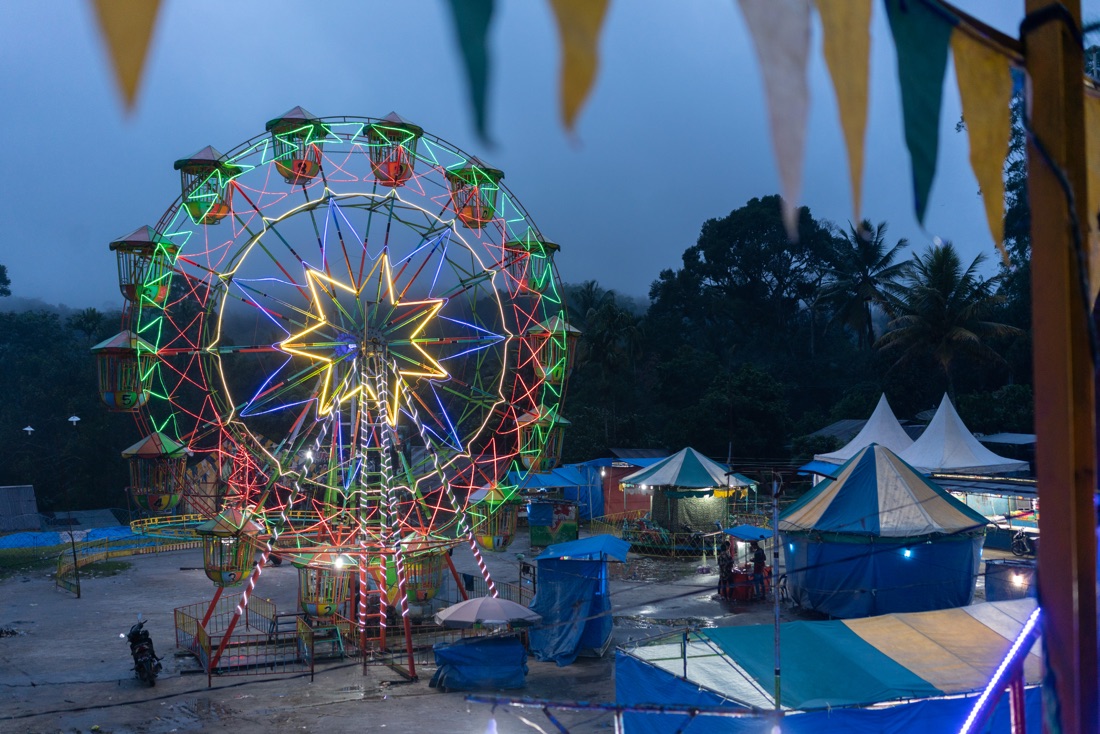 The Princess of the Tong Setan
February 8, 2019 - Parlilitan (Indonesia). Rain falls over the "Pasar Malam" ruining an evening of work. The income for the people of the itinerant fair is hardly impacted by the unpredictability of the weather especially during the monsoon season when they can earn just half of their normal earnings. © Thomas Cristofoletti / Ruom
The Princess of the Tong Setan
February 9, 2019 - Parlilitan (Indonesia). Despite the heavy rain, Karmila (20) gets ready for an evening of work. The income for the people of the itinerant fair is hardly impacted by the unpredictability of the weather especially during the monsoon season when they can earn just half of their normal earnings. © Thomas Cristofoletti / Ruom
The Princess of the Tong Setan
February 9, 2019 - Parlilitan (Indonesia). One of the worker of the "Pasar Malam" tries to dry up one of the attraction soaked after hours of heavy rain. The income for the people of the itinerant fair is hardly impacted by the unpredictability of the weather especially during the monsoon season when they can earn just half of their normal earnings. © Thomas Cristofoletti / Ruom
The Princess of the Tong Setan
February 8, 2019 - Parlilitan (Indonesia). Karmila (20) checks her instagram account on her phone. She is an avid fan of Hello Kitty and she sports a tattoo of the iconic character on her left arm. Karmila loves to share every aspects of her life as a "Tong Setan" rider to thousand of followers of her Instagram and Facebook account. © Thomas Cristofoletti / Ruom
The Princess of the Tong Setan
February 8, 2019 - Parlilitan (Indonesia). Karmila (20) cracks a joke with her husband's family. She recently got married with Agung, another "Tong Setan" rider and the son of the owner of the funfair. © Thomas Cristofoletti / Ruom
The Princess of the Tong Setan
February 9, 2019 - Parlilitan (Indonesia). Locals enjoy the attractions of the "Pasar Malam" where Karmila works set in the remote town of Parlilitan in North Sumatra. The riders of the "tong Setan" are one of the main attractions of the itinerant funfairs in the Indonesian archipelago. They represent one of the few entertainment options in rural areas and for Karmila a good economic opportunity to help her family. © Thomas Cristofoletti / Ruom
The Princess of the Tong Setan
February 9, 2019 - Parlilitan (Indonesia). Despite the heavy rain, Karmila (20) gets ready for an evening of work. She recently got married and started wearing hijab, a more modest image than before. Her moderate change is one of many in the increasingly conservative muslim majority country, yet she still defies gravity every week on top of her motorcycle. © Thomas Cristofoletti / Ruom
The Princess of the Tong Setan
February 9, 2019 - Parlilitan (Indonesia). Rider Sapong Sinaga uses a mixture of rice powder and gasoline to dry up the surfaces of the Tong Setang. The income for the people of the itinerant fair is hardly impacted by the unpredictability of the weather especially during the monsoon season when they can earn just half of their normal earnings. © Thomas Cristofoletti / Ruom
The Princess of the Tong Setan
February 9, 2019 - Parlilitan (Indonesia). Rider Sapong Sinaga prepares a mixture of rice powder and gasoline to dry up the surfaces of the Tong Setang. The income for the people of the itinerant fair is hardly impacted by the unpredictability of the weather especially during the monsoon season when they can earn just half of their normal earnings. © Thomas Cristofoletti / Ruom
The Princess of the Tong Setan
February 9, 2019 - Parlilitan (Indonesia). Aerial view of the itinerant funfair (Pasar Malam in Indonesian) where Karmila works set in the remote town of Parlilitan in North Sumatra. The riders of the "tong Setan" are one of the main attractions of the itinerant funfairs in the Indonesian archipelago. They represent one of the few entertainment options in rural areas and for Karmila a good economic opportunity to help her family. © Thomas Cristofoletti / Ruom
The Princess of the Tong Setan
February 9, 2019 - Parlilitan (Indonesia). A crowd of locals waits for the beginning of a session of riding on the top of the "Tong Setan". The riders are one of the main attractions of the itinerant funfairs in the Indonesian archipelago. They represent one of the few entertainment options in rural areas and for Karmila a good economic opportunity to help her family. © Thomas Cristofoletti / Ruom
The Princess of the Tong Setan
February 8, 2019 - Parlilitan (Indonesia). Karmila (20) gets ready for a riding session inside the structure of the "Tong Setan". She started riding four years ago and she recently gained popularity on social media with thousands of people following her performances. The "Tong Setan" represent one of the few entertainment options in rural areas and for Karmila a good economic opportunity to help her family. © Thomas Cristofoletti / Ruom
The Princess of the Tong Setan
February 8, 2019 - Parlilitan (Indonesia). Karmila (20) performs a trick riding the walls of the "Tong Setan". She started riding four years ago and she recently gained popularity on social media with thousands of people following her performances. The "Tong Setan" represent one of the few entertainment options in rural areas and for Karmila a good economic opportunity to help her family. © Thomas Cristofoletti / Ruom
The Princess of the Tong Setan
February 8, 2019 - Parlilitan (Indonesia). Karmila (20) covers her ears while her fellow riders companions perform a session in the "Tong Setan". The exhaust pipes are removed from the motorbikes to make the engines sound louder to make the audience feel the noise. © Thomas Cristofoletti / Ruom
The Princess of the Tong Setan
February 9, 2019 - Parlilitan (Indonesia). Karmila (20) tries to catch a bill from a spectator during an evening session inside the "Tong Setan". Riders make money catching bills that the public hang from the top of the structure and can earn up to 4 million rupiah a month (285 USD). © Thomas Cristofoletti / Ruom
The Princess of the Tong Setan
February 9, 2019 - Parlilitan (Indonesia). Karmila (20) and her follow riders count the money earned during an evening session inside the "Tong Setan". Riders make money catching bills that the public hang from the top of the structure and can earn up to 4 million rupiah a month (285 USD). © Thomas Cristofoletti / Ruom
The Princess of the Tong Setan
February 9, 2019 - Parlilitan (Indonesia). Karmila (20) helds a Facebook live session for her fans at the end of a riding session inside the "Tong Setan". She started riding four years ago and she recently gained popularity on social media with thousands of people following her performances. The "Tong Setan" represent one of the few entertainment options in rural areas and for Karmila a good economic opportunity to help her family. © Thomas Cristofoletti / Ruom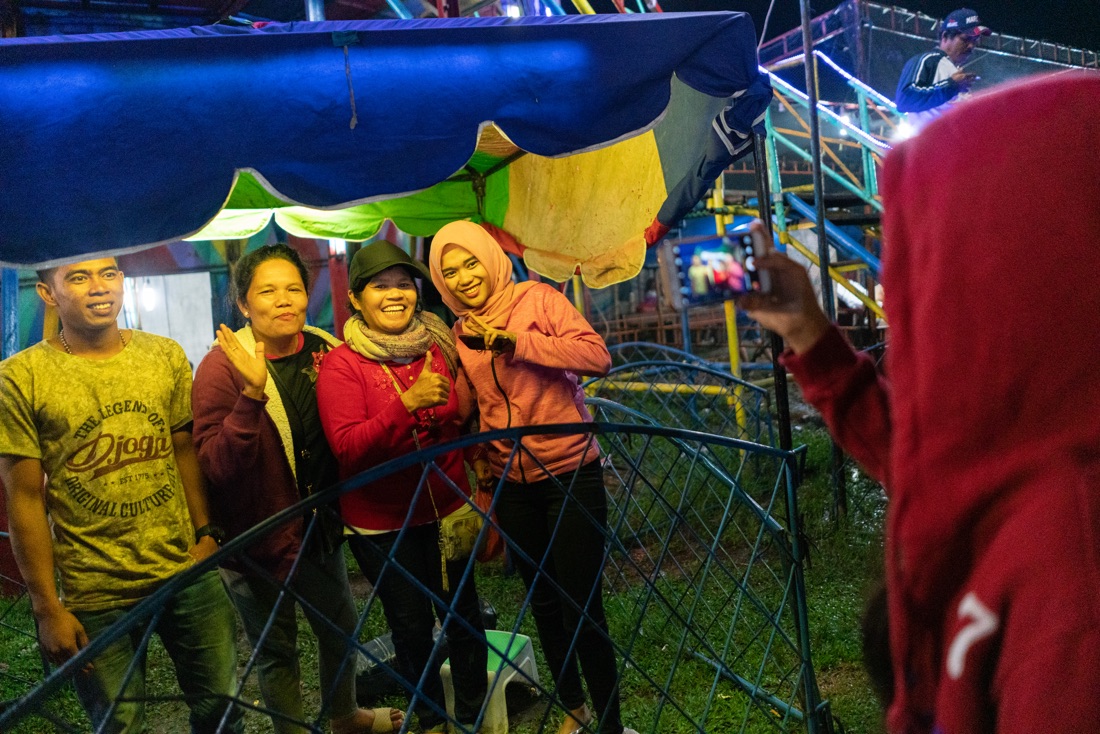 The Princess of the Tong Setan
February 9, 2019 - Parlilitan (Indonesia). Karmila (20) poses with fans after a riding session inside the "Tong Setan". She started riding four years ago and she recently gained popularity on social media with thousands of people following her performances. The "Tong Setan" represent one of the few entertainment options in rural areas and for Karmila a good economic opportunity to help her family. © Thomas Cristofoletti / Ruom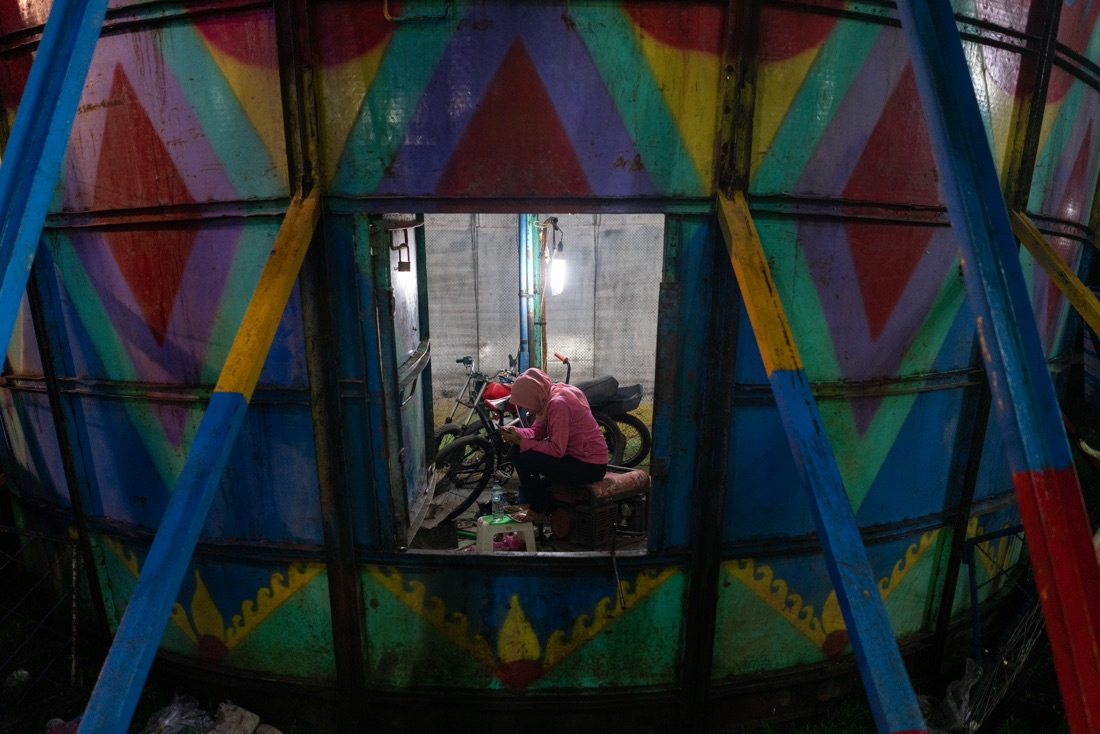 The Princess of the Tong Setan
February 9, 2019 - Parlilitan (Indonesia). Karmila (20) helds a Facebook live session for her fans at the end of a riding session inside the "Tong Setan". She started riding four years ago and she recently gained popularity on social media with thousands of people following her performances. The "Tong Setan" represent one of the few entertainment options in rural areas and for Karmila a good economic opportunity to help her family. © Thomas Cristofoletti / Ruom